Oct. 27, 2015
By DARREN MILLER
hawkeyesports.com
IOWA CITY, Iowa — Kirk Ferentz gave the University of Iowa football players 72 hours to enjoy a 40-10 victory at No. 20 Northwestern on Oct. 17.
That was an extended period to relish a 7-0 start because a bye week and 13 days without competition waited. During that time, Ferentz opened an app on his smart phone and did some mathematics homework.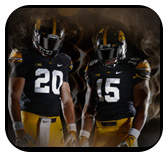 Iowa — ranked No. 10 in the nation by The Associated Press — hosts Maryland (2-5 overall, 0-3 Big Ten) on Oct. 31 with kickoff scheduled for 2:30 p.m. (CT) inside Kinnick Stadium.
Since Iowa's resounding win at Northwestern, Ferentz emphasized to the team that 42 percent of the regular season and 63 percent of its conference season remained. Then he handed out a piece of paper listing upsets that have taken place in college football.
While the Hawkeyes recharged and improved, they were hit with a valuable lesson: focus on what is immediately in front of you and remember that the so-called experts (pollsters) don't play the games.
"There is a lot of football left," UI head coach Kirk Ferentz said Tuesday at a news conference in the Stew and LeNore Hansen Football Performance Center. "Everybody wants to think they know what's going to happen or what should happen, but football is pretty unpredictable."
| | |
| --- | --- |
| | "There is a lot of football left. Everybody wants to think they know what's going to happen or what should happen, but football is pretty unpredictable." |
One fact grounding the Hawkeyes this week is the result of the 2014 contest against the Terrapins at College Park, Maryland. Iowa racked up 433 yards of offense that day, but allowed 418 and lost, 38-31, after trailing by 17 with less than five minutes to play. The Hawkeyes scored the game's first 14 points.
"They are a team that beat us last year and they have a lot of good players from last year returning," Ferentz said. "We expect their best Saturday. I'm sure they will be confident coming in."
The bye week served an important medical purpose. UI senior wide receiver Tevaun Smith is back to full speed, junior running back LeShun Daniels, Jr., is having a good week of practice, and sophomore left tackle Boone Myers has returned to the depth chart. Senior running back Jordan Canzeri and sophomore offensive lineman Ike Boettker will not play.
It is a happy time around Iowa City, especially since the Hawkeyes are undefeated after seven games for the first time since 2009 and are in the top 10 for the first time since September, 2010. Emphasizing that you don't get anywhere in life without a vision, Ferentz said the party is over and the Terrapins have the team's attention.
"At some point you have to understand it's time to go back to work and let's focus on what can help us achieve what it is we would like to do," Ferentz said. "I'm pretty sure most of the teams in our conference had a vision back in August of playing in a championship game and then representing the conference. You can sit around and think about things and dream about them for so long, but at some point you have to get to work, and that's where the rubber hits the road."
About 8,700 tickets remain for the Iowa-Maryland game. To purchase tickets, click HERE.