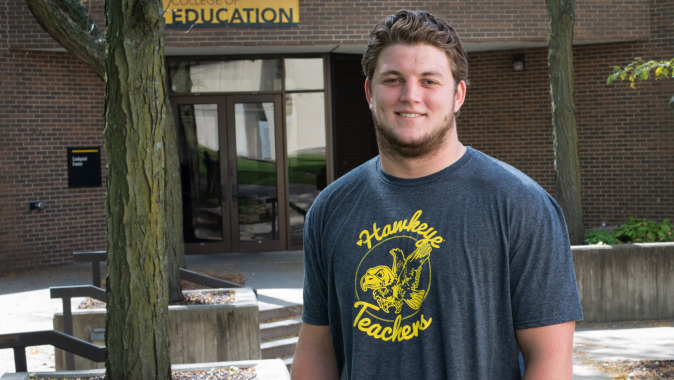 Oct. 27, 2015
Editor's Note: The following first appeared in the University of Iowa's Hawk Talk Daily, an e-newsletter that offers a daily look at the Iowa Hawkeyes, delivered free each morning to thousands of fans of the Hawkeyes worldwide. To receive daily news from the Iowa Hawkeyes, sign up HERE.
By ELLIE MINOR
IOWA CITY, Iowa — Steve Ferentz, an offensive lineman for the University of Iowa football team and a senior in the college of education, is a native to Iowa City, its football culture, and the constant recognition of his last name.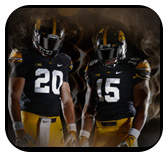 He spent his last three years juggling his grueling schedule as a student-athlete, studying to become a high school history teacher. From a distance, the two may seem to have no relation, but Ferentz says the similarities are surprising.
"The biggest thing that goes into both football and being a teacher is hard work," Ferentz says. "You're not going to learn everything immediately. It's a daily effort, and there are going to be days where you don't feel like going in or doing this or that, but you just have to push through it."
The offensive lineman joined the college of education in spring of 2014 and completed his practicum at Iowa City's West High School this past spring.
"In practicum you bounce around from classroom to classroom, and it was cool to see how different the teachers are, but all still so effective," he says. "There are so many ways you can go about teaching, and the experience was an affirmation that this was what I wanted to do in the future."
Ferentz's college experience has been considerably different than the average student's due to the strong presence of his family. His father, Kirk, is Iowa's head football coach.
"It's certainly unique," he says. "I love playing football for him and coincidentally enough, my brother is my position coach. My freshman year, my other brother James was on the team as well. It was one of the best years of my life."
With such a family presence on campus, including a sister who is an alumna of the college of education, Ferentz has had the opportunity to be surrounded by his lifelong personal role models on a daily basis.
"It's a lot of fun," he says. "I learn a great deal from my dad and my brother every day. They're two of my biggest inspirations, and it has been cool to see what they do upfront for the past few years."
Yet, despite being connected to such a prominent figure in the University of Iowa community, Ferentz tries to keep a low profile.
"It's weird when I'm out and about in Iowa City or when I'm in class — I try to avoid saying my last name just because I don't want it to become a thing," he says. "You try to protect yourself from it." Ferentz also tries not to reinforce any negative stereotypes that exist about football players.
"I wear a hat and keep my head down a lot," he says. "There's a stigma out there about football players in class, and I try to avoid those stigmas."
The parallels on the field and in the classroom have taught Ferentz a work ethic that is crucial for both participating in Division I athletics and being in the No. 1 college of education program in the state. The last three years have taught him that keeping a balance between his passions is essential.