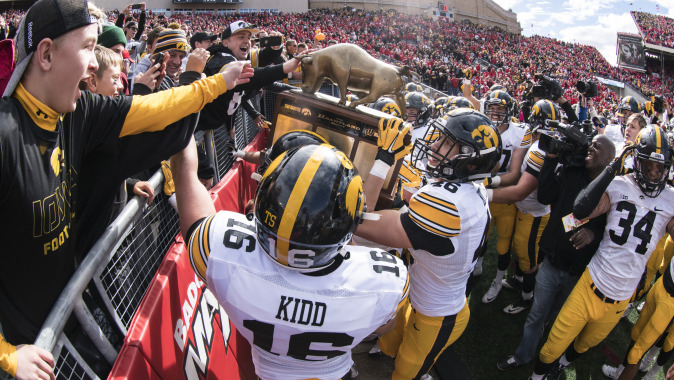 Nov. 3, 2015
IOWA CITY, Iowa – The University of Iowa football team is ranked ninth in the initial College Football Playoff (CFP) rankings. The poll was release Tuesday evening by the playoff selection committee.
The Hawkeyes (8-0, 4-0), are one of three Big Ten Conference teams in the top 10. Ohio State is ranked third, with Michigan State seventh. Clemson is the top ranked team, LSU is ranked second and Alabama is fourth. Additional Big Ten teams in the top 25 include Michigan (17) and Northwestern (21).
"I'm proud of what our guys have done through eight games, it is significant and impressive," said head coach Kirk Ferentz. "With that being said, we know we have four tough contests in front of us and that is where our focus has to be.
"We all saw last year where it was a pretty fluid process, how those polls and the rankings changed during the course of November and December. It is nice to be talked about in the discussion, but the biggest thing right now is to take care of our business each week."
Tuesday's rankings are the first for the Hawkeyes in the College Football Playoff rankings, which began last season and ended with Ohio State earning the national title with wins over Alabama and Oregon. The initial CFP Ranking last year included Mississippi State, Auburn, Ole Miss and Florida State. From that group, only Florida State made the playoffs. Ohio State was 16th in the initial rankings a year ago.
Under the previous BCS system, Iowa appeared in the rankings on 38 occasions between 2002-2010. Iowa's highest ranking came during the 2009 season, when the Hawkeyes were ranked fourth on Oct. 26 and Nov. 2. Iowa concluded the season with a win over Georgia Tech in the 2010 FedEx Orange Bowl. Iowa ended the 2009 season ranked 10th in the final poll.
Iowa travels to Indiana Saturday (2:35 p.m. CT, ESPN). The Hawkeyes hosts Minnesota (Nov. 14, 7 p.m., BTN) and Purdue (Nov. 21, TBA) to close the home season. Tickets are on sale for the home finale against Purdue and are available online at hawkeyesports.com, by calling 1-800-IA-HAWKS, or in person at the UI athletics ticket office located in Carver-Hawkeye Arena. There is a $25 youth ticket available for that contest.