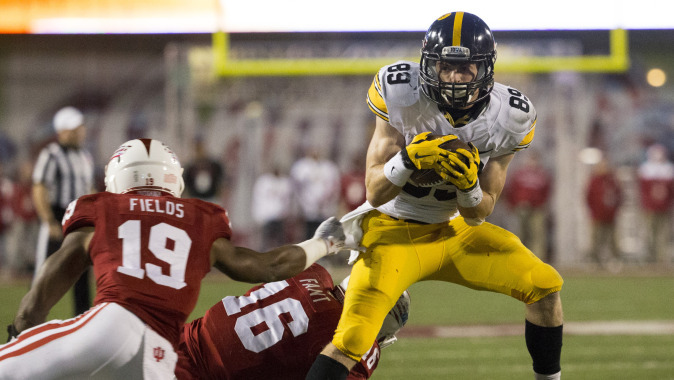 Nov. 8, 2015
Editor's Note: The following first appeared in the University of Iowa's Hawk Talk Daily, an e-newsletter that offers a daily look at the Iowa Hawkeyes, delivered free each morning to thousands of fans of the Hawkeyes worldwide. To receive daily news from the Iowa Hawkeyes, sign up HERE.
By DARREN MILLER
hawkeyesports.com
BLOOMINGTON, Ind. — As a baseball fan growing up near Pittsburgh, Kirk Ferentz understood at an early age the importance of closing pitchers like Kent Tekulve of the Pirates.
The University of Iowa football team — coached by Ferentz — embraces that Tekulve-like attitude this season, finishing games with ferocity. Nine of them in fact, as the No. 9 (and climbing) Hawkeyes improved to 9-0 to begin a season for just the second time in school history following a 35-27 victory at Indiana on Saturday in Bloomington, Indiana.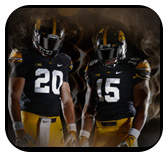 The mantra of putting opponents away by ruling the fourth quarter began when the team returned from a lopsided loss against Tennessee in the TaxSlayer Bowl on January 2. (Ironically, Iowa outscored the Volunteers 21-3 in the fourth quarter of that game).
"Since we started with off-season conditioning workouts and into spring ball our goal has been to own the fourth quarter," said junior wide receiver Matt VandeBerg.
VandeBerg caught a team-high five passes for 68 yards Saturday; in the final 15 minutes he hauled in three for 66 yards. One play of the game involved VandeBerg on a third-and-11 conversion late in the game with Iowa holding a 21-20 lead. Junior quarterback C.J. Beathard sprinted out of the pocket to his left and found VandeBerg for an important 12-yard gain.
"BK (UI receivers coach Bobby Kennedy) talks about scramble rules," VandeBerg said. "When C.J. gets out of the pocket we have to break off our route and make sure we move into position where he can get it to us. He found me and it was a big conversion."
Iowa scored on that drive — and its next — to gain an insurmountable 15-point advantage. The Hawkeyes "won" the fourth quarter at Indiana in points (14-10), first downs (9 to 7), and perhaps most importantly, possession time (9:32 to 5:28).
In wins this season over Iowa State, Pittsburgh, North Texas, Northwestern, and Indiana, Iowa holds a scoring advantage of 62-17 in the final quarter.
| | |
| --- | --- |
| | "We put an emphasis on it in the off-season. In order to win games we felt we needed that slight edge. We were close last year, but we would end up losing those close games. You have to finish games and the fourth quarter is where a lot of that comes." |
"Credit goes to our players," Ferentz said. "They find a way to get it done every week. That speaks volumes about the kind of players we are working with — the way they believe in each other and stick together."
Wide receiver Jacob Hillyer had a career day against the Hoosiers with four receptions for 53 yards. Although all of his production came in the first half, Hillyer understands the significance of a strong finish.
"We knew going into this game that the fourth quarter was a big opportunity for us," Hillyer said. "We have been preaching and practicing it all week and it showed. It's a mindset knowing we're going to finish the game. Then once the fourth quarter hits, we're ready and know we have to go play."
Closing games isn't limited to the offense. Junior cornerback Desmond King thwarted a Hoosier drive with 5:21 remaining with his school-record tying eighth interception of the season. Sophomore linebacker Josey Jewell finished with 15 tackles (11 solos).
"It was a good team win by all of us," Jewell said. "We knew we had to persevere and hold them a couple more times. We played as a team and everybody knew their role."
No one represents Iowa's fourth quarter closer mentality more than Beathard. He has won his first 10 games as a starting quarterback for the Hawkeyes and seems to excel more as the game wears on. Against Indiana in the fourth quarter he completed 7-of-11 passes for 102 yards and rushed once for 11 yards on a naked bootleg to pick up the 26th and final first down of the game for Iowa.
"He's a football player and he works hard at it," Ferentz said. "Some of the throws he made and those third down conversions were super clutch plays."
"We put an emphasis on it in the off-season," Beathard said of putting teams away. "In order to win games we felt we needed that slight edge. We were close last year, but we would end up losing those close games. You have to finish games and the fourth quarter is where a lot of that comes."
In Iowa's last 10 games, including the TaxSlayer Bowl, Beathard's fourth quarter numbers include 33-of-45 passing for 447 yards and four touchdowns, and 14 carries for 77 yards and one touchdown. He did not play in the fourth quarter against North Texas.
Those are attractive statistics, especially when most were compiled with the outcome of a game in the balance.
Somewhere Kent Tekulve is smiling.