Nov. 10, 2015
By JAMES ALLAN
hawkeyesports.com
IOWA CITY, Iowa — University of Iowa head football coach Kirk Ferentz eluded to Dan Gable, Hulk Hogan, Rocky, and James Van Allen during Tuesday's weekly news conference.
And there was talk about Minnesota, and the battle for the Floyd of Rosedale.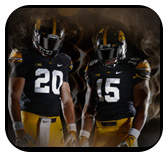 Ferentz may be right. The initial wave of hoopla surrounding the eighth-ranked Hawkeyes may have passed, but Iowa's business-like approach hasn't. The Hawkeyes are zeroed in on their primetime matchup against the Gophers on Saturday in Kinnick Stadium.
"Our guys are wired into what we're doing," Ferentz said Tuesday in the All-American Room inside the Stew and LeNore Hansen Football Performance Center. "We had better be because we have a big challenge on our hands."
The Hawkeyes need not to look any further than last season's Nov. 8 matchup in Minneapolis — a 51-14 Gopher victory.
"We have total respect and full-firsthand knowledge of just how well these guys can play," said Ferentz. "We know what kind of team they are and they have a lot of the same players back. We have to be at our best."
Minnesota is 4-5 overall and 1-5 in Big Ten play. The Gophers have lost three straight and four of their last five games, including a 29-26 defeat against No. 15 Michigan and a 28-14 loss at No. 1 Ohio State in the last two weeks. All five of Minnesota's losses have come against nationally ranked teams.
"Minnesota has played very well the last couple of weeks out against very tough opponents," said Ferentz. "We've got a big challenge on our hands."
After mixing-and-matching the running backs corps the last two weeks, the Hawkeyes are expected to be closer to full strength with the return of senior Jordan Canzeri on Saturday. Before suffering his ankle injury, Canzeri rushed for 698 yards and nine touchdowns in six games.
In his absence, Iowa got production from Akrum Wadley (391 yards), LeShun Daniels, Jr. (138 yards), and Derrick Mitchell, Jr. (83 yards).
"We're all convinced right now Jordan is at full speed and that's a good thing," said Ferentz. "If we have them all, that's great. We'll play them all if they're healthy."
Wadley's role against Minnesota is in question; he suffered an injury during Iowa's 35-27 victory at Indiana.
During the news conference, Ferentz expressed his fondness for recently retired Minnesota head coach Jerry Kill.
"I think everybody involved with college football was sad when coach Kill made his (retirement) announcement a couple of weeks ago," said Ferentz. "It's easy to say he has been great for the University of Minnesota, great for the Big Ten, and the entire game of college football.
"He's a tremendous man and football coach, and our game is going to miss him."
Ferentz also touched on his fandom for college wrestling with Kinnick Stadium set to host the "Grapple on the Gridiron" Saturday. The dual, which features No. 1 Oklahoma State against No. 4 Iowa, is expected to break the college wrestling dual meet attendance record and be the first college dual wrestled in a football stadium.
"It's a great thing," said Ferentz. "It's great for the sport, first and foremost, and I happen to be a wrestling fan. It's a win-win situation, and for them to do it in Kinnick Stadium and make history there, why not? That's a fantastic thing for the university."
Saturday's game will kick off at 7:12 p.m. and the game is sold out. BTN will televise the contest with Kevin Kugler, Matt Millen, and Lisa Byington on the call.