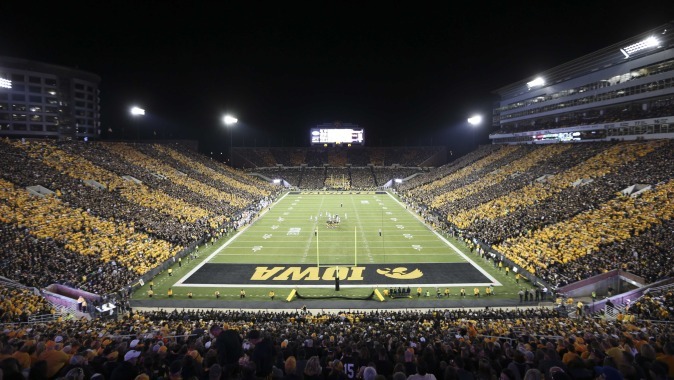 Nov. 11, 2015
IOWA CITY, Iowa — With seven home events in five days, Iowa City is a prime destination for Hawkeye athletics fans near and far. The marathon of home events, which begins Wednesday evening and comes to a close Sunday, has a name: #HawkFanHeaven.
As fans are cheering for Hawkeye volleyball Wednesday, taking in basketball doubleheaders Friday and Sunday, experiencing the first outdoor wrestling event in Kinnick Stadium, or contributing to a football sellout Saturday night, Iowa athletics encourages you to use the official hashtag, #HawkFanHeaven in social media posts.
Posts with the official hashtag will be combined into a social media feature, which will showcase all seven events from the fans' point of view.
A schedule of #HawkFanHeaven events is listed below:
Wednesday, Nov. 11
Volleyball vs. Penn State at 7 p.m. (Carver-Hawkeye Arena)
Friday, Nov. 13
Women's Basketball vs. North Dakota at 6 p.m. (Carver-Hawkeye Arena)
Men's Basketball vs. Gardner-Webb at 8:30 p.m. (Carver-Hawkeye Arena)
Saturday, Nov. 14
Wrestling vs. Oklahoma State at 11 a.m. (Kinnick Stadium)
Football vs. Minnesota at 7 p.m. (Kinnick Stadium)
Sunday, Nov. 15
Women's Basketball vs. UT Martin at 1 p.m. (Carver-Hawkeye Arena)
Men's Basketball vs. Coppin State at 4 p.m. (Carver-Hawkeye Arena)