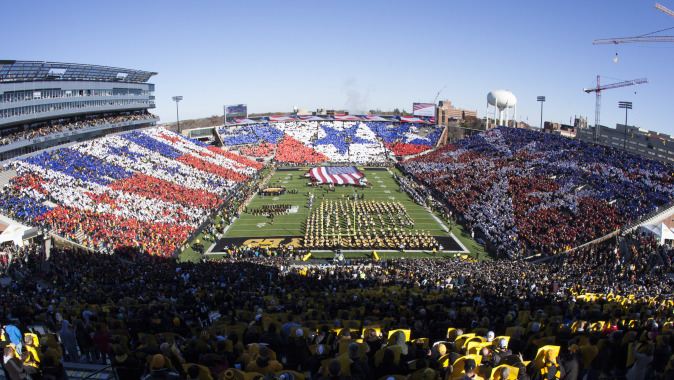 Nov. 12, 2015
IOWA CITY, Iowa — One of the University of Iowa football team's most famous alums is 1939 Heisman Trophy winner Nile Kinnick. The first Hawkeye football player to earn first-team All-America honors was Fred Becker.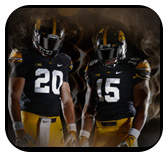 Both were United States veterans and both lost their lives serving in the military. Becker was killed in active duty in 1918 during World War I; Kinnick died during a training flight while serving as a United States Navy aviator during World War II.
Saturday's game against Minnesota is designated as Military Appreciation Day in honor of Veterans Day. The UI and its Veterans Association has organized events to honor veterans associated with the university and Hawkeye community.
UI students Jacob Stone and Sheena Anderson were among the participants in a Veterans Association 280-mile ruck march that brought the game ball from TCF Bank Stadium in Minneapolis to Kinnick Stadium to raise awareness for veteran suicide. Stone is a veteran of the U.S. Marines, Anderson is a U.S. Army veteran.
Participants marched in teams of three while carrying ruck sacks weighing 22 pounds, a symbol of the 22 veterans who take their own lives by suicide each day. The 57 members of the ruck march will form the tunnel the Hawkeyes swarm through onto the field for Saturday's game.
The UI football program and the Army ROTC also identified five distinguished veterans — all UI graduates or former cadre — to serve as the traditional color guard. The five individuals selected are: Colonel G. Dave Lewis, Lieutenant Colonel Michael Brothers, Lieutenant Colonel Brad Cook, Master Sergeant David J. Stoen, and Lieutenant Colonel Mark Coble.
The on-field events come on the heels of a Tickets for Troops initiative that was rolled out earlier this fall. The UI partnered with fans, giving them an option to purchase tickets at a reduced price and donate them to active duty and veteran military members to attend Saturday's game at no cost.
The battle for the Floyd of Rosedale begins at 7:12 p.m. (CT). The game, which is sold out, will be televised on BTN.