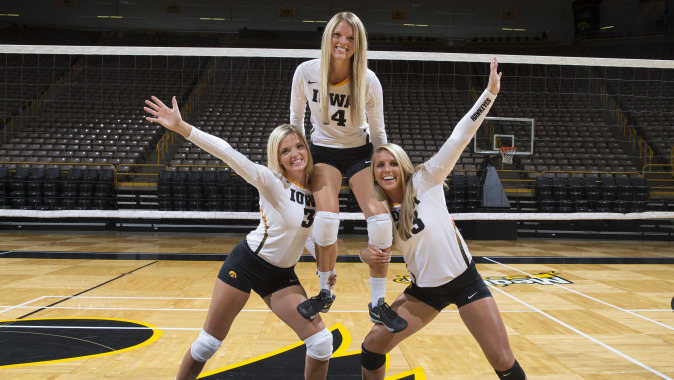 Nov. 14, 2015
Editor's Note: The following first appeared in the University of Iowa's Hawk Talk Daily, an e-newsletter that offers a daily look at the Iowa Hawkeyes, delivered free each morning to thousands of fans of the Hawkeyes worldwide. To receive daily news from the Iowa Hawkeyes, sign up HERE.
By BRANDEE BRITT
IOWA CITY, Iowa — As future Hawkeyes begin to ink their National Letters of Intent, three University of Iowa volleyball seniors — Mikaela Gunderson, Alli O'Deen, and Erin Radke — are reflecting on their collegiate careers.
Gunderson, a middle blocker, transferred from Wisconsin-Green Bay following her sophomore season. In two years with the Hawkeyes, the Casco, Wisconsin, native has played in 59 matches, recorded 315 kills, and tallied a .294 attacking percentage. She has become a leader on the court in her senior season, pacing the team with a .338 hitting percentage — the eighth-best percentage in the Big Ten.
O'Deen, a defensive specialist, is a fifth-year senior from Iowa City, Iowa. The West High graduate followed in her mother's (Amy O'Deen; 1977-80) footsteps and fulfilled a lifelong dream when she chose to play volleyball at Iowa. She has played in 64 matches throughout her career, and has become a serving specialist as of late. While many fans don't know it, O'Deen's off-the-court leadership is something to be mentioned. Endearingly referred to as "Grandma," O'Deen pushes her teammates to be better on and off the court.
Radke grew up in a Hawkeye-loving family, and often dreamt of becoming the first family member to attend the University of Iowa. The Sioux Falls, South Dakota, native has recorded 306 kills in 56 matches as a right-side hitter. If O'Deen is the team "Grandma," Radke is most certainly the team "Mom." The journalism and mass communications major is often the first one to pull out the camera to capture a moment, or combine video clips into a home movie.
While they each have different journeys, they all have at least one thing in common — an appreciation for their time as a Hawkeye.
"You see the Tigerhawk around campus every day," said Radke. "Knowing that I had the chance to be a part of something way bigger than myself is amazing. There are people that will approach me in the grocery store, because they love that I'm a Hawkeye. I've loved being able to wear the Black and Gold, even if it was only for a smidgen of time."
O'Deen and Gunderson echo her sentiments.
"This experience has been everything," O'Deen said. "I couldn't imagine playing in any other colors. This is what I have wanted since I was a little girl. I'm sad about having to close this door in my life, but I'm excited about what this program is going to become."
"Playing for the Hawkeyes has meant so much to me," said Gunderson. "The pride I feel is indescribable. I'm grateful that I had the opportunity to become a Hawkeye. Coming to Iowa was the best decision I've ever made."
Gunderson, Radke, O'Deen and the Hawkeyes return to Carver-Hawkeye Arena next week for the final time this season. Iowa hosts Ohio State on Nov. 18, before taking on Northwestern in its home finale Nov. 21.