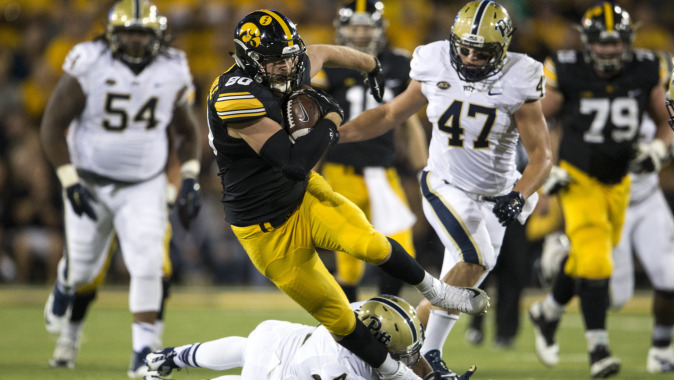 Nov. 16, 2015
Editor's Note: The following first appeared in the University of Iowa's Hawk Talk Daily, an e-newsletter that offers a daily look at the Iowa Hawkeyes, delivered free each morning to thousands of fans of the Hawkeyes worldwide. To receive daily news from the Iowa Hawkeyes, sign up HERE.
By MATTHEW WEITZEL
hawkeyesports.com
IOWA CITY, Iowa — The University of Iowa football team has a workman-like approach to each game. That is a big reason why the Hawkeyes have won a school-record 10 games to start the season.
One of the seniors who is emblematic of that workman-like approach is tight end Henry Krieger Coble.
Off the field, Krieger-Coble is as laid-back and mature. On the field, he works hard and strives to be a reliable piece to the puzzle.
"I go out there and do my job and do what the coaches ask," said Krieger Coble. "I run my routes and try to be as dependable a target as I can."
Prior to his senior campaign, the 6-foot-4, 250-pound tight end caught seven catches for 58 yards. This season, Krieger Coble has been a key cog, catching 23 passes for 262 yards. The 262 yards and 23 receptions rank second and third, respectively, among Big Ten tight ends.
"He's a good football player," said head coach Kirk Ferentz. "He's not fast, but he's hard to cover. Henry has good feel and patience. He has made more "wow" catches in practice over the last five years than anybody we've had here."
A majority of Krieger Coble's 23 catches have been impactful with 14 of them having moved the chains, including his last eight catches. Krieger Coble says that his route running as improved since his freshman season.
"My route running could do nothing but improve from when I first got here five years ago," said Krieger Coble. "It's a by-product of working at it during every practice. It took a lot of work and it's paying off now."
Offensive coordinator Greg Davis said Krieger Coble's ability to make difficult catches and go vertical after a catch has helped the Hawkeyes sustain drives.
"He has excellent ball skills and understands special concepts," said Davis. "A lot of times he is on option-type routes where he can do this-or-that. He understands the yards we need when he catches the ball."
Krieger Coble caught a career-high five catches twice, versus Pittsburgh and Maryland, and caught a career-long 32-yard pass last week against Minnesota. The native of Mount Pleasant, Iowa, even caught the eye of Big Ten Network college football analyst Matt Millen last weekend.
"He knows how to play and work a defender," Millen said.
Krieger Coble, who had three catches for a career-best 61 yards in Iowa's 40-35 triumph over Minnesota, sports a full beard. He hasn't shaved since August and as long as the team continues to win games, it's going to stay.
"Our goal is to go out there and play our best football every week," said Krieger Coble. "There's no big picture for us; we take it one game at a time and are thinking about our next opponent. We're going to focus on Purdue this week."
Iowa hosts the Boilermakers in its home finale Saturday at 11 a.m. (CT). Tickets are available by calling 1-800-IA-HAWKS, going online at hawkeyesports.com or visiting the UI Ticket Office at Carver-Hawkeye Arena.