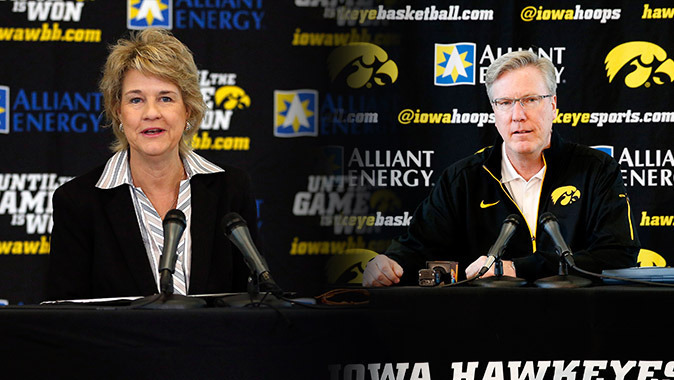 Nov. 22, 2015
IOWA CITY, Iowa — University of Iowa head women's basketball coach Lisa Bluder and head men's basketball coach Fran McCaffery will hold news conferences Monday at 1 p.m. (CT) and 2 p.m., respectively, to discuss upcoming Thanksgiving tournaments.
The briefings with local, regional and national media will be held in the Media Room inside Carver-Hawkeye Arena, and be available live from start to finish on Hawkeye All-Access, the multimedia portal inside hawkeyesports.com, the official worldwide website of the Iowa Hawkeyes.
The 23rd-ranked Iowa women head to Texas for the Lone Star Showcase with a 4-0 record after knocking off in-state rival Northern Iowa, 80-65, on Sunday in Cedar Falls. The Hawkeyes will play Wright State on Thanksgiving Day, No. 20 George Washington on Nov. 27, and Houston on Nov. 28.
The Iowa men bring a 3-0 record to Orlando for the Advocare Invitational. The Hawkeyes open the tournament against Dayton on Nov. 26, face either Notre Dame or Monmouth on Nov. 27, and an opponent to be determined on Nov. 29.
In addition to live coverage of each of Bluder and McCaffery's weekly news conferences, subscribers to Hawkeye All-Access also have exclusive access to weekly visits with the media of UI head football coach Kirk Ferentz, live and exclusive coverage of Ferentz's, McCaffery's and Bluder's postgame news conference after home events, live and exclusive coverage of the weekly "Hawk Talk" radio shows of Iowa's head football, men's basketball, and women's basketball coaches, and the live play-by-play of every Iowa women's basketball game featuring the Hawkeye Radio Network's Brent Balbinot, and all football, men's basketball and wrestling events.
To become a subscriber to Hawkeye All-Access, click HERE.
To explore the offerings available inside Hawkeye All-Access, click HERE.