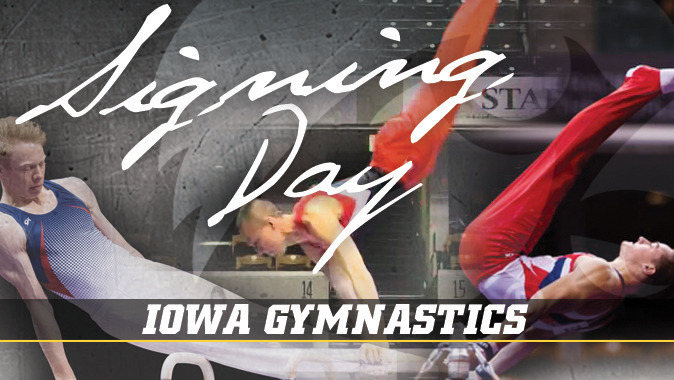 Nov. 23, 2015
IOWA CITY, Iowa — Andrew Herrador (Sunnyvale, California) Nicholas Merryman (Brookline, New Hampshire), and Mitch Mandozzi (Harvard, Massachusetts) signed National Letters of Intent to continue their gymnastics careers at the University of Iowa. The recruiting class combines for nine state championships and five national championships.
Head coach JD Reive on class: "This is one of the best recruiting classes that I've signed since coming to Iowa. The integrity of these student athletes will provide an accomplished balance of elite athletic ability and academic prowess. All three bring a style of gymnastics that I love teaching. They will no doubt play a crucial role in defining the next generation of Hawkeye gymnastics."
Andrew Herrador
5-6
Livermore High School
Sunnyvale, California
Andrew Herrador, a 5-6 standout gymnast from Sunnyvale, California, competed all-around for coach Vince Miller. Herrador helped his team win three straight state championships, winning the all-around in 2013, placing runner-up in 2015, and finishing fourth in 2014. Individually, Herrador is a two-time state champion on horizontal bar (2014, 2015) and a state champion on floor exercise (2014). He is also a national champion on horizontal bar and placed third nationally in the all-around in 2013. Last summer, Herrador competed in the P&G Championships, finishing 24th overall.
Reive on Herrador: "He has an incredible commitment to the artistic gymnastics and great routine construction you want in an athlete; nice lines, great creativity and a disciplined work ethic. He will contribute immediately on several events as a freshman."
Nicholas Merryman
5-5
Hollis-Brookline High School
Brookline, New Hampshire
Nicholas Merryman, a member of the USAG Junior National team, is also a four-time Future Stars National Development Team member, three-time Region 6 team member, and a two-time national team member.
Merryman is a five-time New Hampshire state champion and five-time Region 6 champion in the all-around. In 2013, he competed in the Windy City Invitational and Boston Classic, placing first in all-around in both events. In 2014, Merryman competed in the Tim Daggett National Invitational, placing first in all-around, third on parallel bars, and third on horizontal bars. In 2015, he competed at the Black Jack Invitational and placed fifth in all-around, first on pommel horse, and first on rings. At the USA National Championship in 2015, he placed first on pommel horse. Academically, Merryman is a four-time academic all-american and a member of the National Honor Society.
Reive on Merryman: "Merryman has an aesthetic to his gymnastics that is impossible to miss. His presentation, body line and artistry are inherent in all his movement. He is an incredible gymnast with an inordinate amount of potential. He will contribute immediately on several events as a freshman."
Mitchell Mandozzi
5-8
Bromfield School
Harvard, Massachusetts
Mitch Mandozzi is an all-around gymnast from Harvard, Massachusetts. Mandozzi finished first on vault and runner-up on parallel bars and high bar at the state championships in 2015. In regional championship action that year, he earned the top spot on floor, parallel bars, and all-around.
Mandozzi also competed at the 2015 Junior Nationals, where he placed sixth in the all-around. His finish qualified him for the P&G Championships last summer, where he earned a runner-up result on high bar.
Reive on Mandozzi: "Mitchell is a great gymnast that will come in and immediately contribute scores on several events as a freshman. He is committed to the elite level of the sport and provides a great deal of potential that that we are looking forward to unleashing."