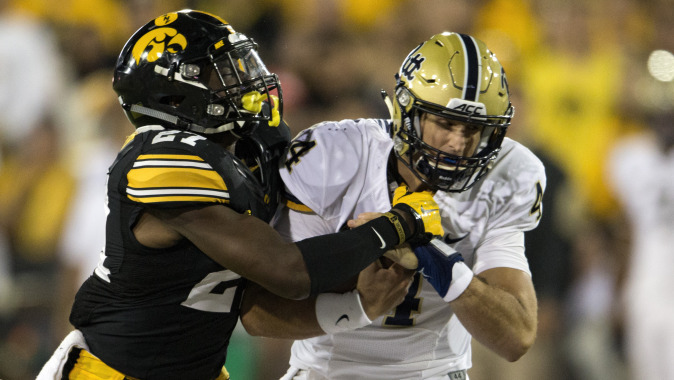 Nov. 24, 2015
NEWPORT BEACH, California — University of Iowa senior safety Jordan Lomax has been named the Lott IMPACT Player of the Week. The announcement was made Tuesday by the Pacific Club IMPACT Foundation, sponsors of the annual Lott IMPACT Trophy.
Lomax (5-10, 205-pounds) is a native of Upper Marlboro, Maryland, and attended DeMatha HS. He led the Hawkeyes with career-best 12 tackles in the 40-20 win over Purdue. He also recorded one pass break-up as the Hawkeyes improved to 11-0 on the season.
In recognition of Lomax's performance, the Pacific Club IMPACT Foundation will make a $1,000 donation to the UI general scholarship fund.
Lomax has 71 tackles this season, one interception, six pass break-ups and one caused fumble. He's also an academic standout with a 3.49 GPA. He has earned his degree in economics and was recently named to the CoSIDA District 6 Academic All-America team. He has twice been named to the Academic All-Big Ten team.
Named after Pro Football Hall of Fame member, Ronnie Lott, The Lott IMPACT Trophy is awarded to college football's Defensive IMPACT Player of the Year. Founded in 2004 by The Pacific Club IMPACT Foundation, The Lott Trophy is the first and only college football award to equally recognize athletic performance and the personal character attributes of the player.
The Lott Trophy is given to the player who exhibits the same characteristics Lott embodied during his distinguished career: Integrity, Maturity, Performance, Academics, Community and Tenacity. Voters for the award include selected members of the national media, previous finalists, the Board of Directors of the Pacific Club IMPACT Foundation and a distinguished group of former college football head coaches.
To date, the Foundation has donated more than $1.1 million to various charities throughout the country. The 12th annual Lott Trophy dinner will be held Dec. 13 at The Pacific Club in Newport Beach, California. For more information on The Lott Trophy visit: www.LottImpactTrophy.org.
Iowa is 11-0 for the first time in school history and joins Clemson as the only undefeated FBS teams in the nation. Iowa is ranked third in both the Associated Press and coaches polls. Iowa closes the regular season Friday at Nebraska (2:36 p.m., ABC).
The Hawkeyes have won the Big Ten West Division and will participate in the Big Ten Championship game on Saturday, Dec. 5 in Indianapolis (7:17 p.m. CT, FOX).