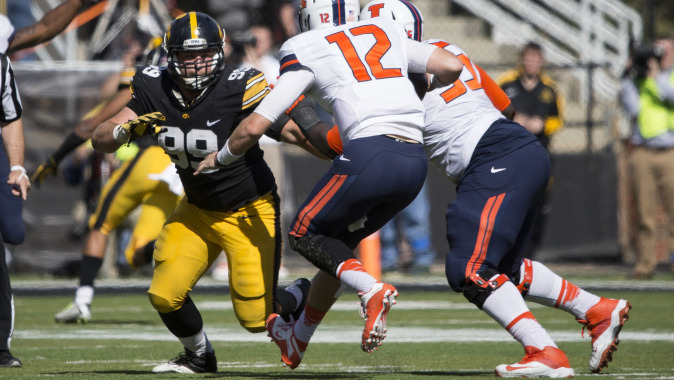 Nov. 25, 2015
Editor's Note: The following first appeared in the University of Iowa's Hawk Talk Daily, an e-newsletter that offers a daily look at the Iowa Hawkeyes, delivered free each morning to thousands of fans of the Hawkeyes worldwide. To receive daily news from the Iowa Hawkeyes, sign up HERE.
By JAMES ALLAN
IOWA CITY, Iowa — A small, rural town, 80 miles northwest of the University of Nebraska, sees University of Iowa football as must-see television.
The conversion of Howells, Nebraska — population 550 — from everything Cornhusker to a sliver of Hawkeye comes from UI junior Nathan Bazata. The defensive lineman has started every game during third-ranked Iowa's 11-0 start.
"My parents said a lot of people are watching all the Iowa games back home," said Bazata. "It's going to mean more to play in front of them."
On Friday, Bazata will have around 20 friends and family in attendance when Iowa faces Nebraska in a Hy-Vee Heroes matchup at Memorial Stadium in Lincoln, Nebraska. Kickoff is set for 2:36 p.m. (CT).
Bazata grew up a Cornhusker. His cousin, Brad Vering, was a three-time wrestling All-American and a national champion at 197 pounds in 2000. Several other Howells kids were members of the Nebraska wrestling program.
Bazata was a talented athlete in his own right, playing eight-man football at Howells-Dodge High School. He was regarded as one of the top players in the state, being tabbed as the Division I Player of the Year by Huskerland Prep Reports and a Gatorade Football Player of the Year nominee as a senior.
He was lightly recruited by Nebraska. They had conversations, he went on a couple of visits, and that led to his first trip to Memorial Stadium. An offer never came.
These days, Bazata is happy to be a Hawkeye. He is a key cog on a defensive unit that ranks seventh nationally in rushing defense (107.5 yards per game) and 16th in total defense (322.5). Bazata has 33 tackles, including 3.5 tackles for loss, 1.5 sacks, and a fumble recovery.
Heading into the regular season finale, Bazata is focused on helping Iowa get back to playing team defense. The Hawkeyes have surrendered 27, 35, and 20 points in their last three games, and Purdue had 405 yards of total offense Nov. 21 in Kinnick Stadium.
"The Minnesota game wasn't very good, but in the first quarter against Purdue we played well and then we let go of it," said Bazata. "We weren't playing as a team, it was more about individuals.
"We have to get back to what we were doing early in the season to be able to stop everything in the run and pass. The coaches are trying to get us back to where we were."
The road doesn't get any less challenging heading to Lincoln to contend with Nebraska's dynamic offense. With Tommy Armstrong, Jr., under center, the Huskers are second in the Big Ten in total offense (443.4 yards per game) and fourth in scoring (33.5 points). Armstrong, Jr., accounts for 283.8 yards of total offense.
"Containing Armstrong is going to be a big factor," said Bazata. "He's a good quarterback and moves well. Getting some disruptions would be great to help the defense."
Bazata has tried to keep this week as normal as possible. He's keeping his focus on Nebraska because it's the next game on the schedule.
"It's not that big of a deal," he said. "It's just one out of the 12 games, and I am trying to get better this week."
It may not be a big deal for Bazata, but it is for the Hawkeye fans that have surfaced in Cornhusker country.