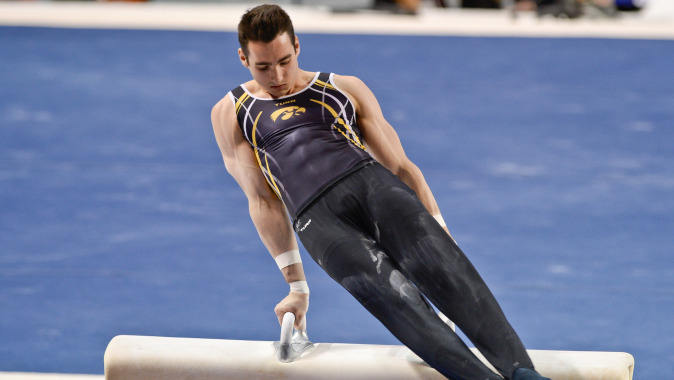 Dec. 2, 2015
Black and Gold Notes

THIS WEEK:
The University of Iowa men's gymnastics team competes at the annual Black and Gold Intrasquad meet Saturday. The event will take place inside the UI Field House at 3 p.m. (CT).
A LOOK BACK:
The Hawkeyes competed in the NCAA Championships in Norman, Oklahoma, April 9-11. The team finished third out of six teams on day one with a team score of 435.050, qualifying for team finals. That is the second time in the last three seasons Iowa advanced as a team. Iowa finished sixth overall with a team score of 427.450, and set a season high on floor with a 73.800 effort. Oklahoma won the meet with a score of 447.050 followed by Stanford (440.450) and Penn State (439.500). Jack Boyle was the lone Hawkeye competing in the individual event finals. He finished sixth on high bar, earning All-American honors with a score of 14.850.
BOYLE'S STELLAR JUNIOR SEASON:
Jack Boyle was honored with All-American honors following his performance at the NCAA Championships. Boyle placed sixth overall with a 14.850 effort in individual finals.
He was named co-Big Ten Gymnast of the Week following Iowa's win over UIC on Jan. 24. Boyle contributed two event titles — on rings (15.400) and floor (14.750) and finished second on parallel bars (14.400). It was Boyle's first weekly honor of his career and the first for the Hawkeyes since Matt McGrath earned the award on March 17, 2014.
3 GYMNASTS SIGN WITH HAWKEYES:
On Nov. 23, head coach JD Reive announced the addition of three gymnasts for the 2016-17 season. Andrew Herrador, Nicholas Merryman and Mitch Mandozzi signed with the Hawkeyes this fall. The recruiting class has combined for nine state championships and five national championships.
HEAD COACH JD Reive:
Entering his sixth year as head coach of the Hawkeyes, Reive has high expectations for his team. For the second time in three seasons Reive has led his team to NCAA team finals, finishing as one of the top team in the country. Reive is looking for even further progress in 2015-2016.
For a third straight year, Reive has had an all-american on his roster. Reive led the Hawkeyes to a fifth place finish at the NCAA Championships in 2013, their best finish in a decade.
Reive graduated from Nebraska in 2000 with a bachelor of journalism degree and was an assistant at Stanford from 2003-10 where he helped the team grab four top three finishes.
ROSTER BREAKDOWN:
The Hawkeye men's gymnastics team is comprised of six freshman, four sophomores, five junior and six seniors.
SEASON TICKETS:
Fans interested in attending 2016 home meets at Carver-Hawkeye Arena should visit hawkeyesports.com or contact the UI Athletics Ticket Office at 1-800 IA-HAWKS. Season tickets are currently on sale for $8 until Dec. 31. Ticket prices will jump to $10 on Jan. 1. Season ticket holders will gain admission to all home meets and will receive an Iowa gymnastics long sleeve t-shirt with their purchase.
FOLLOW THE HAWKEYES:
Facebook: facebook.com/iowagymnastics
Twitter: twitter.com/iowagymnastics
YouTube: youtube.com/iowagymnastics
Instagram: instagram.com/iowamgym