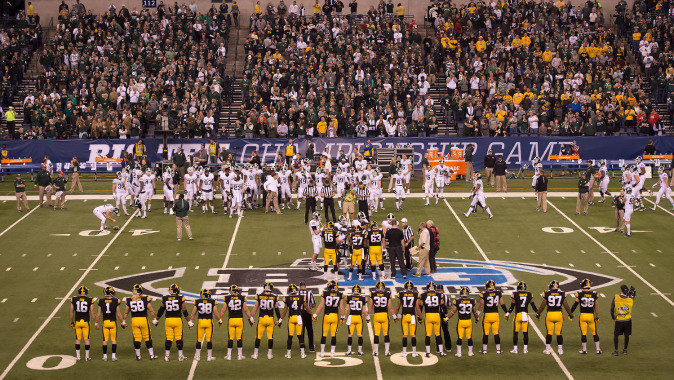 Dec. 6, 2015
B1G Championship Photo Gallery

Editor's Note: The following first appeared in the University of Iowa's Hawk Talk Daily, an e-newsletter that offers a daily look at the Iowa Hawkeyes, delivered free each morning to thousands of fans of the Hawkeyes worldwide. To receive daily news from the Iowa Hawkeyes, sign up HERE.
By DARREN MILLER
hawkeyesports.com
INDIANAPOLIS — The University of Iowa's football bowl fate will be determined later today. There are a lot of where, when, and against whom scenarios that Hawkeye linebacker Josey Jewell doesn't completely understand.
But he is certain of one thing, regardless of whether Iowa's next game is played Dec. 31 in Atlanta, Jan. 1 in Glendale, Arizona, or Jan. 1 in Pasadena, California.
"Wherever they put us, we're going to play our hardest and go 100 percent," said Jewell, who made eight tackles with two quarterback hurries and an interception in a 16-13 loss to Michigan State on Saturday in the Big Ten Conference Football Championship Game.
Iowa was 27 seconds from a 13-0 record and its first conference championship in 11 years. But afterward the Hawkeyes weren't looking for a participation ribbon.
"No," was senior Austin Blythe's succinct reply to the suggestion that there was a consolation prize. "It hurts."
It took a 22-play, 82-yard scoring drive by the Big Ten East Division champion Spartans to complete a three-point victory. The final scoring drive consumed 9 minutes and 4 seconds.
"Credit Michigan State, they got it when they needed it most," UI cornerback Greg Mabin said. "We played them tough and have nothing to be ashamed of, but we ended up short."
| | |
| --- | --- |
| | "Everyone else might have doubted us, but we didn't doubt ourselves. We knew we had the ability to go out and win this game. We played tough, but playing tough doesn't win ball games. We came up short. Wherever our next game is, our goal is to win that and go 13-1." |
The best news is that there is a tomorrow for the Hawkeyes and an opportunity to erase the image of Spartan freshman L.J. Scott spinning and reaching the football across the goal line in a game where every inch and every second was a precious commodity.
"There is nothing we can do now, just flush it and worry about the next game," said defensive tackle Jaleel Johnson, who had three tackles and a pass breakup. "We stuck in there and proved a lot of doubters wrong, but we can't let this loss affect us going into our next game."
That's where the senior class — lauded all season for its leadership — will be summoned once again.
"We have to pull together like always, play our style of football, and keep looking forward," senior defensive end Nate Meier said.
"The seniors are going to have to come together and reel everyone in," Mabin said. "This was a hard loss, it is going to hurt for a while, but eventually we will get over it and move on to the next game and the next opponent and get ready for them."
That will be either New Year's Eve or New Year's Day. And regardless of whether the next game is contested in the Georgia Dome, University of Phoenix Stadium, or the Rose Bowl, the Hawkeyes shouldn't be distracted. They just performed in front of 66,985 fans with all the flash and pizazz the Big Ten Conference could provide for two days in Indianapolis.
"This team belongs at whatever bowl selects us," said junior Desmond King, the premiere defensive back in the Big Ten. "Any chance we get, we're going to go out and play our hardest.
"It was a great opportunity being here to showcase what we have on this grand stage and we played a tough game."
The Hawkeyes will discover their late December/early January destination and opponent between 2 and 2:30 (CT) this afternoon. It will be their fourth opponent this season currently with at least 10 victories, joining Illinois State (10-2), Northwestern (10-2) and Michigan State (12-1).
"Everyone else might have doubted us, but we didn't doubt ourselves," Mabin said. "We knew we had the ability to go out and win this game. We played tough, but playing tough doesn't win ball games. We came up short. Wherever our next game is, our goal is to win that and go 13-1."