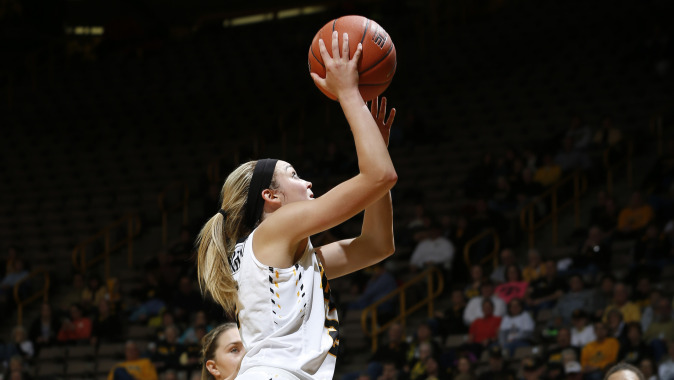 Dec. 7, 2015
By JIL PRICE
ROSEMONT, Ill. — University of Iowa women's basketball forward Ally Disterhoft was named to the Big Ten Honor Roll Monday for her efforts in a pair of Hawkeye victories last week.
The Iowa City, Iowa, native led the team in assists (4) and rebounds (7) in Iowa's Big Ten/ACC victory at Virginia last Wednesday. She netted 18 points on the night, shooting 75 percent (6-of-8) from field goal range and hitting all six of her free throw attempts.
In the Hawkeyes' first home contest in 17 days Sunday, Disterhoft continued to have success. She paced the team with 16 points in its win against Robert Morris, a team picked to win the Northeast Conference for the third-straight season. The team elected co-captain made 67 percent of her field goals (6-of-9) and 50 percent of her three-point shots (2-of-4) to guide Iowa to its 22nd consecutive win on Mediacom Court inside Carver-Hawkeye Arena.
Disterhoft has scored in double figures in every game this season and in 54 of her 60 career starts. She became the 34th player in program history to surpass the 1,000 career point mark in the second game of the season (vs. UT Martin on Nov. 15), and has since moved up to 30th on Iowa's all-time scoring list with 1,122 points.
The preseason All-Big Ten honoree was also named to the Allstate WBCA Good Works Team last Wednesday for her contributions to the local community. Disterhoft, who leads Iowa in points per game (16.1) and assists (32) through nine games, has used her platform as a student-athlete to speak out on the importance of wearing a helmet on mopeds, call for legislation changes, and be involved in the Live Like Line (#LLL) cause.
Disterhoft and the 24th-ranked Hawkeyes are back in action this Friday at Iowa State. The annual Iowa Corn Cy-Hawk series matchup tips at 7 p.m. (CT) in Ames, Iowa.