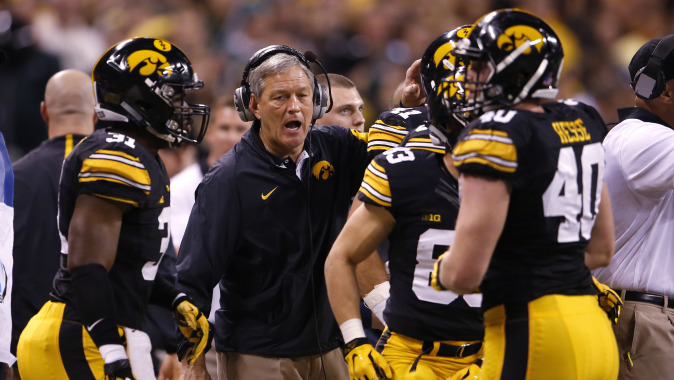 Dec. 7, 2015
IOWA CITY, Iowa — University of Iowa head football coach Kirk Ferentz has been named the American Football Coaches Association (AFCA) Region 3 Coach of the Year. The announcement was made Monday by the AFCA.
The AFCA recognizes five regional Coach of the Year winners in each of five divisions. The winners are selected by active members of the AFCA, who vote for coaches in their respective regions and divisions. The Coach of the Year recipient will be announced Tuesday, Jan. 12, at the annual coach's convention.
Ferentz was earlier named the Big Ten Conference Coach of the Year for the fourth time in his career. Joining Ferentz as regional winners are Dabo Swinney of Clemson, Jim McElwain of Florida, Mike Gundy of Oklahoma State, and Stanford's David Shaw, who will coach against the Hawkeyes in the Rose Bowl.
Ferentz is in his 17th season as Iowa's head coach. He guided the Hawkeyes to a perfect 12-0 regular season mark, the most wins ever for a Hawkeye football team. Iowa, ranked fifth in the College Football Playoff (CFP) rankings, has earned a spot in the 2016 Rose Bowl against Stanford. The Hawkeyes lost to Michigan State in the Big Ten championship game, 16-13.
The Hawkeyes began the season unranked, before moving into the top 25 following a 10-6 win at Wisconsin. Iowa steadily climbed in the rankings and was ranked as high as fourth in the CFP rankings.
Ferentz ranks eighth in the Big Ten Conference in both overall wins (127) and conference wins (76). He has led Iowa to 13 bowl games in the last 15 seasons, including eight January bowl events. Ferentz has led Iowa to nine first-division finishes in the Big Ten, including winning the conference in both 2002 and 2004.
Iowa has won seven or more games in seven of the last eight seasons, including eight wins in 2010 and 2013, nine wins in 2008, 11 wins in 2009, and a school-record 12 wins in 2015. Iowa has had just one sub-.500 season in the last 15 years.