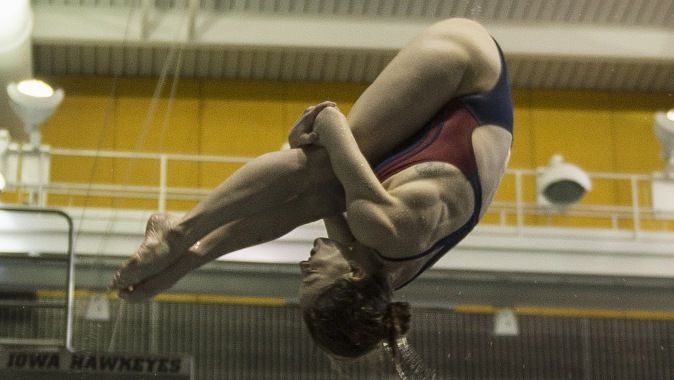 Dec. 15, 2015
IOWA CITY, Iowa — University of Iowa senior Addison Boschult and volunteer assistant coach and former Hawkeye All-American Deidre Freeman will compete at the 2015 USA Diving Winter Nationals from Dec. 15-20 in Indianapolis.
Boschult will compete in the preliminaries of the men's 10-meter Friday at 12:30 p.m. (CT). The semifinals will take place at 4:35 p.m. and the final will be held at approximately 1:35 p.m. Sunday.
Freeman will compete in the women's 3-meter synchronized competition alongside Maren Taylor and individually off the 3-meter springboard. Prelims for the synchro begin at 9 a.m. Wednesday followed by the finals at 5 p.m.
The women's 3-meter preliminaries begin at 9 a.m. Friday. Semifinals will take place at approximately 2:55 p.m. and the finals will be Sunday at 12 p.m.
The championships will be used to select the U.S. roster for February's FINA World Cup in Rio de Janeiro, which will be the final opportunity for countries to qualify for the 2016 Olympic Games. Additionally, the Winter Nationals will be a chance for divers to qualify for the 2016 U.S. Olympic Team Trials for diving, to be held June 18-26 in Indianapolis.