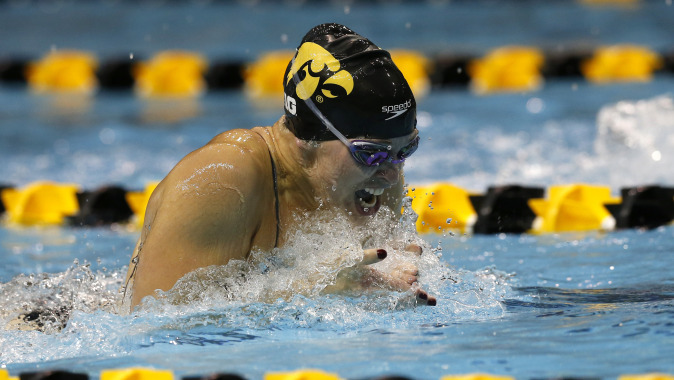 Dec. 15, 2015
IOWA CITY, Iowa — A pair of University of Iowa women's swimmers — junior Emma Sougstad and senior Olivia Kabacinski — have been honored as TeamUnify/CollegeSwimming.com Swimmers of the Week.
"I am excited for Emma and Olivia to receive these accolades," said UI head coach Marc Long. "Emma is an outstanding competitor and to earn a national honor is great for our program.
"It's great to see Olivia, as a senior leader for our team, be recognized for her outstanding efforts in the pool."
Sougstad was selected as the Division I Women's Swimmer of the Week for her four first-place finishes in the Iowa Corn Cy-Hawk Series victory at Iowa State. The Forest City, Iowa, native set four Beyer Pool records in the 100 (1:00.50) and 200 (2:12.95) breaststroke, 200 IM (2:01.39), and as a member of the winning 200-medley relay (1:40.29).
Kabacinski was tabbed as CollegeSwimming.com's Big Ten Swimmer of the Week. The La Porte, Indiana, native anchored Iowa's winning 200-medley (1:40.29) and 400-freestyle (3:22.84) relays, while also sprinting to individual victories in the 100 (50.01) and 200 freestyle (1:48.92) events.
Sougstad and Kabacinski's performances helped propel the Hawkeyes to a 198-101 victory over the Cyclones. It was Iowa's sixth straight victory in the series.
The Hawkeyes will travel to St. Petersburg, Florida, from Jan. 3-10 for a winter training trip. Iowa returns to action Jan. 16, hosting Illinois for a Big Ten Conference dual at the Campus Recreation and Wellness Center Natatorium.