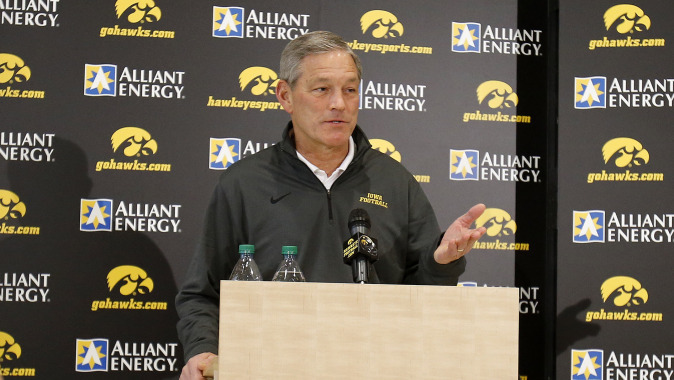 Dec. 15, 2015
IOWA CITY, Iowa — Hawkeye Sports Properties and the University of Iowa have announced the addition of a coaches show to the radio lineup next Monday, Dec. 21.
The `Hawk Talk with Kirk Ferentz' radio show, held at Carlos O'Kelly's in Iowa City, will air Monday from 6-7 p.m. (CT). The Dean of Big Ten football coaches will preview the upcoming Rose Bowl game against Stanford on Jan. 1 in Pasadena, California.
Due to the addition of Ferentz' show, `Hawk Talk with Lisa Bluder', hosted at Monica's in Coralville, will run in the 7-8 p.m. time slot. Bluder, the Dean of Big Ten women's basketball coaches, will preview Iowa's upcoming home contest against Drake on Dec. 22. She led the Bulldogs as a head coach for 10 seasons, prior to taking over the Hawkeye program 16 years ago.
Hawkeye fans can call both shows with questions at 1-877-GOHAWKS, and listen live on Hawkeye Radio Network affiliate stations.