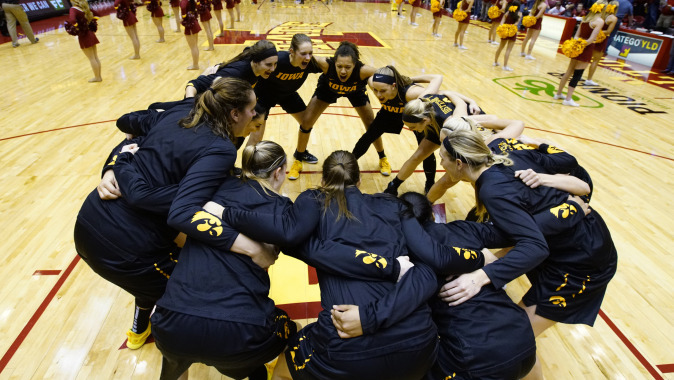 Dec. 17, 2015
Editor's Note: The following first appeared in the University of Iowa's Hawk Talk Daily, an e-newsletter that offers a daily look at the Iowa Hawkeyes, delivered free each morning to thousands of fans of the Hawkeyes worldwide. To receive daily news from the Iowa Hawkeyes, sign up HERE.
By JIL PRICE
IOWA CITY, Iowa — Following a tough road loss to Iowa Corn Cy-Hawk Series rival Iowa State, the University of Iowa women's basketball team is ready to hit the reset button. With an eight day stretch to wrap up the semester, take finals, practice, and prepare, the Hawkeyes are ready to turn the page and focus on what's next.
"We wanted to take some time to get the team through finals week because that's the No. 1 priority, but we are also taking this time to sharpen up on the details," said UI head coach Lisa Bluder. "We need to pay attention to the small things and get better at the fundamentals.
"We've also been working on never taking anything for granted, going as hard as we can every possession, and staying focused the whole time this week."
The Hawkeyes' next stretch includes a pair of home games, a good sign for a team that is highly successful in its own environment. Iowa owns a 22-game winning streak on Mediacom Court inside Carver-Hawkeye Arena, the third-longest home winning streak in program history, dating back to last year's perfect 18-0 homestand.
December action continues with a matchup with Bradley on Dec. 19. The Braves are 4-4 on the season and average 63.8 points per game.
Iowa then welcomes its final intrastate opponent in Drake on Dec. 22. The Hawkeyes won a highly competitive contest in 2014-15, edging the Bulldogs, 100-98, in Des Moines, Iowa, and this year's matchup is expected to be the same.
Both benches share a strong connection, as Bluder was the head coach at Drake for a decade and associate head coach Jan Jensen and assistant coach Jenni Fitzgerald played collegiately for the Bulldogs.
Fourth-year Drake head coach Jennie (Lillis) Baranczyk was a standout under Bluder from 2000-04. She was a three-time captain, three-time All-Big Ten selection, and an All-American. She is one of two Hawkeyes to score 1,700 points and pull down 800 rebounds in her career.
It will be an emotionally charged contest for both sides.
"It's not just playing another game when it's Drake," Bluder said. "We coached there for a decade of our lives, Jan and Jenni have degrees from there, and Jennie (Lillis) Baranczyk has a degree from Iowa. It's an unusual distraction and once the game gets started you hope that distraction leaves.
"We have so much respect for Jennie and what she brought to us as a Hawkeye. Now she's doing great things at Drake and we're proud of her. We just wish we didn't have to play her."
Wins against Bradley and Drake will be a confidence builder for Iowa, as it heads into Big Ten Conference play at the end of the month. The Hawkeyes begin league play on the road at Nebraska on Dec. 31, before hosting Rutgers on their home court Jan. 4.