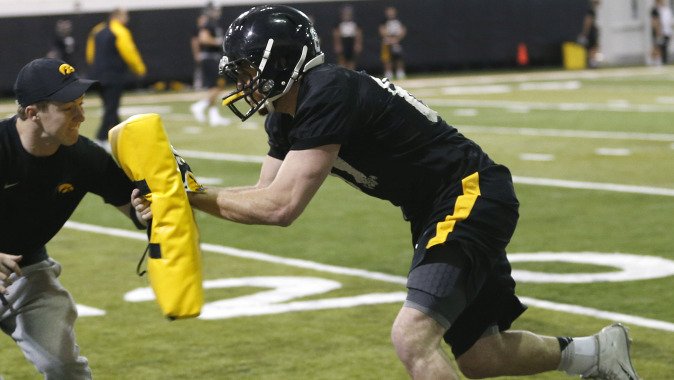 Dec. 22, 2015
By DARREN MILLER
hawkeyesports.com
IOWA CITY, Iowa — You don't need to remind University of Iowa tight end Jake Duzey that time stops for no one.
It has been a bittersweet senior season for Duzey, highlighted by a Rose Bowl berth, but also by the pain of rehabbing a serious offseason injury. He understood that his playing clock began ticking when he arrived on campus in 2011 after setting records at Athens (Michigan) High School for receptions, receiving yards, and touchdown receptions.
That collegiate playing timer will keep counting down until the evening of Jan. 1, 2016, when Duzey and the No. 5 Hawkeyes (12-1) take on No. 6 Stanford in the 102nd Rose Bowl Game in Pasadena, California.
Duzey finished his junior season with 36 pass receptions for 392 yards and three touchdowns, making him one of the Hawkeyes' top offensive weapons returning in 2015. He led all Big Ten tight ends with 36 receptions in 2014, his 85-yard scoring reception at Ohio State in 2013 ranks ninth-longest by a tight end in Iowa history, his 138 receiving yards at Ohio State that day are the most by a tight end under head coach Kirk Ferentz.
No stranger to touchdown receptions — Duzey has five as a Hawkeye — he would gladly give back a spring practice score in 2015. On that fateful day, Duzey went up for a corner ball in the end zone and, like he is accustomed to doing, made the touchdown grab.
This time it was different.
"It felt like someone kicked me right above my knee cap," Duzey said. "I tried to get up because I was going to celebrate, but my knee gave out and I realized something was messed up."
Surgery was required on his left patella tendon. Duzey returned Sept. 26 against North Texas, but admits that might have been hasty.
"I don't think I was ready at that point, but I wanted to get out there and help do anything I could," he said.
Duzey doesn't have a catch in nine games this season after compiling 58 receptions for 678 yards from 2012-14.
| | |
| --- | --- |
| | "It has been a great five years, I'm glad I chose this place because the coaches and teammates are my family. Being with these guys and creating brothers I will have the rest of my life has been awesome." |
"It is frustrating, but you can't be too upset with the season," Duzey said. "It has been a great year for our team. I was disappointed I didn't get my knee back to where it was and I didn't get a chance to play (more) my senior year, but I did everything I could to help the team and tight ends."
Two other Iowa tight ends — senior Henry Krieger-Coble and junior George Kittle — have combined for 52 receptions for 675 yards and seven touchdowns.
"Both of them are playing great and I couldn't be more proud of them," Duzey said. "I have tried to help them out as much as I can."
Duzey's story is another in a list of "we before me" tales that has allowed the Hawkeyes to win 12 consecutive games, four traveling trophies, and the Big Ten Conference West Division championship.
"We see how hard he works and how hard he is fighting and we're pulling for the guy," said LeVar Woods, UI tight ends coach.
"I don't know if Jake realizes how much of an impact he has made in the (tight end) room and having guys watch him and see how hard he has been fighting. He easily could have given up, but he hasn't done that and he still has good football in front of him."
A career in the National Football League is a long-range goal, but first there is a final postseason game in Pasadena. Although Duzey has not been 100 percent at any point during the regular season, he is improving daily.
And his objective is modest for his final game as a Hawkeye.
"Getting in there for 10 to 15 plays and playing next to Hank (Krieger-Coble) and George and all the other guys would be pretty cool," Duzey said.
Duzey received a bachelor's degree in finance Dec. 19. It is another milestone in a journey at the UI that he would never trade.
"It has been a great five years, I'm glad I chose this place because the coaches and teammates are my family," he said. "Being with these guys and creating brothers I will have the rest of my life has been awesome."