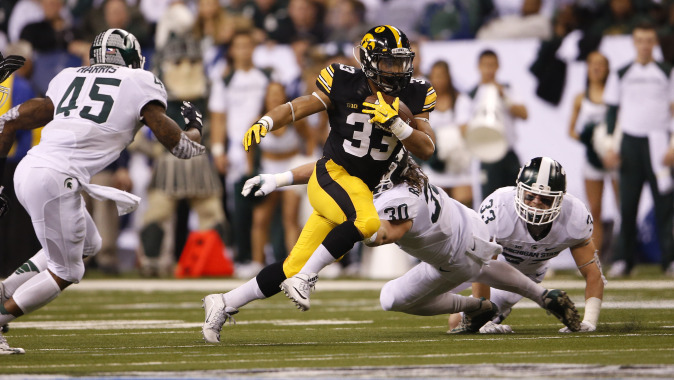 Dec. 23 2015
By JAMES ALLAN
hawkeyesports.com
IOWA CITY, Iowa — There is nostalgia about playing in The Rose Bowl Game, but the No. 5 University of Iowa football team isn't satisfied with just being there, it wants to be able to remember the experience with a victory.
It is a message that began resonating in the Hansen Football Performance Center in the first workout following the 2015 Big Ten Championship Game in Indianapolis.
"After we knew we were going to the Rose Bowl, coach (Chris) Doyle addressed the team," said senior running back Jordan Canzeri. "He said, 'Playing in the Rose Bowl is going to be an amazing experience, something you'll always remember and something you'll tell your children about.
'When 25 years comes down the road and you're back in Kinnick Stadium being honored, do you want to be recognized for just going to the Rose Bowl or do you want to win it?'"
That's the charge.
The Hawkeyes aren't satisfied with their Big Ten West Division title or the undefeated 12-0 regular season or winning four trophy games. They're focused on the next game, focused on getting win No. 13 against No. 6 Stanford at the Granddaddy of them All in Pasadena.
"We want to finish this amazing season and continue to build on this rich Iowa history," said Canzeri. "That's what our focus is."
Iowa travels to Los Angeles on Christmas Eve Day, beginning a week-long stretch of preparation and Rose Bowl sponsored events.
"There are going to be a lot of activities and distractions out there," said junior quarterback C.J. Beathard. "Those are the good things that are a result of having a good season and going to the Rose Bowl. We have to enjoy and embrace it, but stay focused and maintain the task at hand."
It's a trait Iowa has mastered in 2015. The Hawkeyes have stayed in the present from their season-opening victory over Illinois State in early September to the Big Ten Championship Game four months later.
"We've done a good job of staying focused all season," said Beathard. "We haven't been to this stage, but there is no reason we shouldn't do that this week. We're going to enjoy the week and attractions, but we're there for one reason and that's to win another football game."
Iowa's Rose Bowl festivities begin with visiting "The Happiest Place on Earth" on Dec. 26.
"I'm looking forward to going to Disneyland," said senior Cole Fisher. "I've never been, so that will be interesting to see. That's one of the obstacles we'll face throughout the week is keeping a clear mind. We can try to have fun on the side and it's going to be a great place to visit and see all the stuff, but we're there to win a football game."
The 2016 Rose Bowl Game will begin at 4:10 p.m. (CT) from Rose Bowl Stadium on Jan. 1, 2016. The game will be televised on ESPN.