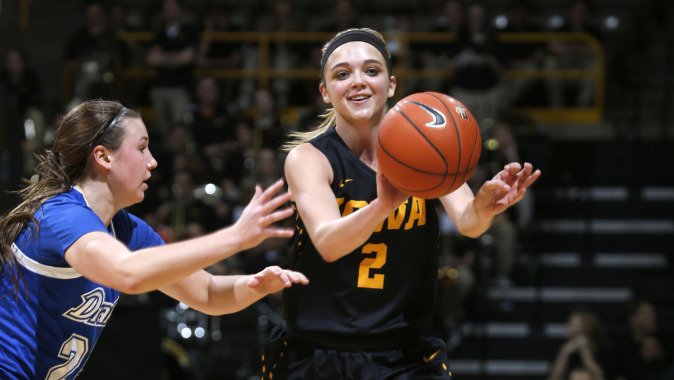 Dec. 28, 2015
IOWA CITY, Iowa — University of Iowa forward Ally Disterhoft was named to the Big Ten Player of the Week Honor Roll this afternoon, as announced by the Big Ten Conference office. It is her second honor roll appearance of the season.
Disterhoft led the Hawkeyes past intrastate rival Drake to stretch the program's home win streak to 24 consecutive games. The junior scored a team-high 20 points, pulled down seven rebounds, and dished out four assists. She hit 6-of-9 field goals, including a 3-of-6 performance from beyond the arc.
The Iowa City, Iowa, native has scored in double figures in all 12 games this season and in 57 of 63 career starts. Disterhoft, who leads the team in points (17.3) and assists (3.33) per game, moved up to 25th on Iowa's all-time scoring list with 1,184 career points and 26th on the all-time rebounding list with 492 career rebounds.
The Hawkeyes open Big Ten Conference action on Dec. 31 at Nebraska. The game, scheduled to begin at 1 p.m. (CT), will be shown live on the Big Ten Network.