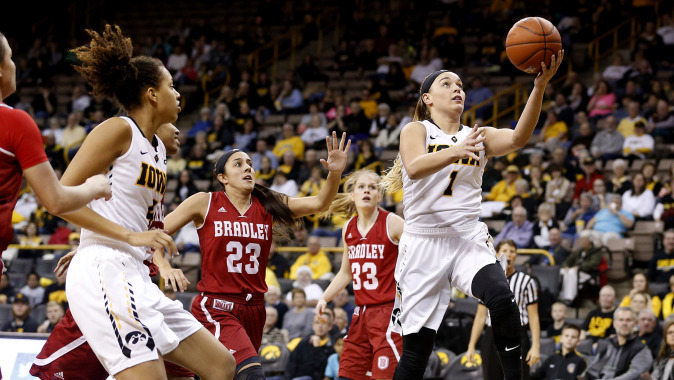 Dec. 29, 2015
Game Notes – at Nebraska

THE SETTING
The 25th-ranked University of Iowa women's basketball team opens Big Ten Conference action with a road contest at Nebraska on Dec. 31. The New Year's Eve game is set to begin at 1 p.m. (CT) at Pinnacle Bank Arena in Lincoln, Nebraska.
GAME COVERAGE
? Thursday's contest will be shown live online through BTN Plus available at btn2go.com.
? Audio of the game is also available on select Hawkeye Radio Network stations and online through Hawkeye All-Access. Brent Balbinot and Todd Werner will call the action.
? Balbinot is in his 12th year as Iowa's play-by-play voice, while Werner is in his first providing analysis.
? Links to video, audio, and live stats are available on the women's basketball schedule page at hawkeyesports.com.
SERIES HISTORY
? Nebraska leads Iowa in the all-time series, 12-10.
? The Hawkeyes ended an eight-game skid with three wins against the Huskers in 2014-15.
? Iowa won in overtime at home 78-72, at Nebraska 69-61 for the first time since 2004-05, and in the opening round of the Big Ten Tournament 74-65.
CORNHUSKER RUNDOWN
? The Huskers bring a 9-2 record in to Big Ten Conference play.
? Senior guard Rachel Theriot was named to the preseason All-Big Ten Team by both coaches and media.
? As a team, Nebraska averages 81.5 points per game. Three average in double figures including freshman Jessica Shepard (19.5), sophomore Natalie Romeo (15.4), and Theriot (12.5).
? The Husker roster, comprised of four freshmen, three sophomores, two juniors, and four seniors, is led by 14th-year head coach Connie Yori.
? Last year, Nebraska finished seventh in the Big Ten Conference with a 10-8 record. The squad posted a 21-11 record overall.
DISTERHOFT EARNS B1G HONOR ROLL RECOGNITION… AGAIN
? Junior Ally Disterhoft was named to the Big Ten Player of the Week Honor Roll on Dec. 28, after helping Iowa defeat intrastate rival Drake, 89-76, last week. The win stretches the Hawkeyes' win streak to 24 consecutive home games.
? The 6-0 forward scored a team-high 20 points, tied for the team lead with seven rebounds, and dished out four assists against the Bulldogs. It is her fourth time scoring 20 points or more in a game this season.
? The Iowa City, Iowa native, hit 6-of-9 field goals, including a 3-of-6 performance from beyond the arc in the game.
? She has scored in double figures in all 12 games this season and in 57 of 63 career starts.
? Disterhoft, who leads the team in points (17.3) and assists (3.33) per game, moved up to 25th on Iowa's all-time scoring list with 1,184 career points and 26th on the rebounding list with 492 career rebounds with her performance.
? Disterhoft was also named to the Big Ten Honor Roll on Dec. 7, after guiding the Hawkeyes to a pair of wins at Virginia and against Robert Morris.
HOMETOWN CONNECTION
One Hawkeye in particular is excited whenever she gets to play Nebraska on the road. Junior guard Alexa Kastanek is a native of Lincoln, Nebraska, who looks forward to challenging the Huskers as a starter this year in front of friends, family, and followers of her basketball career.
CHALLENGING B1G BEGINNING
? Iowa will play its first six conference games within a 17 day stretch.
? Three of Iowa's first six conference games are against teams who made the 2015 NCAA Tournament (at Nebraska, vs. Rutgers, vs. Maryland).
? Michigan, a team Iowa will face on the road during the six-game stretch, accepted an invitation to compete in the WNIT last season.
? Four of the games in this stretch are on the road, as the Hawkeyes play at Nebraska, at Michigan, at Wisconsin, and at Michigan State.
DISTERHOFT EARNS PRESEASON HONOR
Junior forward Ally Disterhoft was named a preseason All-Big Ten honoree by league coaches. The two-year starter and team-elected co-captain, was a second team All-Big Ten selection in 2015, and an honorable mention All-Big Ten honoree, Big Ten All-Freshman Team member, and Big Ten All-Tournament Team selection in 2014.
The Iowa City, Iowa, native entered the season 34th all-time in scoring at Iowa with 977 career points. Disterhoft — the only sophomore to be named a CoSIDA Capital One Academic All-American in 2014-15 — led the Hawkeyes in points (503) and points per game (14.8) last season.
A QUALITY START
? Iowa compiled a 10-2 record in nonconference action, facing challenging opponents at home and on the road to prepare for Big Ten play.
? The Hawkeyes won seven of 12 nonconference games by 10 or more points.
? In the first 12 games, Iowa is outscoring, outrebounding, outassisting, and outblocking its opponents.
? The Hawkeyes own a .440 field goal percentage, .771 free throw percentage, and .309 three-point field goal percentage heading in to conference action.
? Iowa has had four or more players score in double figures in seven of 12 games played thus far. A season-high six scored in double figures for the Hawkeyes against Drake on Dec. 22, including Ally Disterhoft (20), Megan Gustafson (16), Whitney Jennings (15), Alexa Kastanek (15), Chase Coley (11), and Tania Davis (10).
MOVING UP THE CHARTS
? Junior Ally Disterhoft is 25th on Iowa's all-time scoring list with 1,184 career points and 26th all-time with 492 career rebounds.
? She has played in every game of her Hawkeye career with 63 consecutive starts.
? Disterhoft has scored in double figures in every game this season, and in 57 of her 63 career starts.
? The co-captain leads Iowa in points per game (17.3) and assists per game (3.3).
2014-15 CONFERENCE SUMMARY
? Maryland won Big Ten regular season and tournament titles in 2014-15.
? Iowa was the runner-up with a 14-4 mark, followed by Ohio State (13-5) and Northwestern and Rutgers (12-6).
? Seven of 14 teams in the conference appeared in the 2015 NCAA Tournament, including Iowa, Maryland, Minnesota, Nebraska, Northwestern, Ohio State, and Rutgers. Michigan accepted an invitation to compete in the WNIT.
? Maryland advanced to the Final Four, while Iowa made it to the Sweet Sixteen.
? As a conference, the Big Ten posted an 8-7 record in the 2015 NCAA Tournament.
NCAA STREAK ATOP THE BIG TEN
Iowa is the only Big Ten team, and one of only 10 teams in the country, to appear in the last eight NCAA Tournaments. There are 349 Division I teams.
The Hawkeyes advanced to the program's first Sweet Sixteen since 1996, and the sixth overall, a season ago. It was the first Sweet Sixteen appearance for Iowa under head coach Lisa Bluder. Iowa, a No. 3 seed in the 2015 NCAA Tournament, defeated 14th-seeded American in the First Round, 75-67, and 11th-seeded Miami in the Second Round, 88-77, inside Carver-Hawkeye Arena to advance.
HAWKEYES IN BIG TEN PLAY
Iowa head coach Lisa Bluder is a three-time Big Ten Coach of the Year (2001, 2008 and 2010). She has guided Iowa to 11 upper-division finishes in the Big Ten in 15 seasons. Iowa won a share of the Big Ten regular season championship in 2008 and finished in a three-way tie for second in 2009. The Hawkeyes clinched a share of the title in 2008 with a win at Wisconsin in the regular season finale (March 2, 2008). In conference games alone, Bluder owns a 152-96 (.613) record at Iowa. Since the 2008 season, Iowa has finished first once, second three times, third twice, fourth once, and seventh once. Iowa finished second in the inaugural 14-team league in 2015.
UP NEXT
Iowa returns to Mediacom Court in Carver-Hawkeye Arena to meet Rutgers on Jan. 4 at 7 p.m. (CT). The game will be shown live on the Big Ten Network.