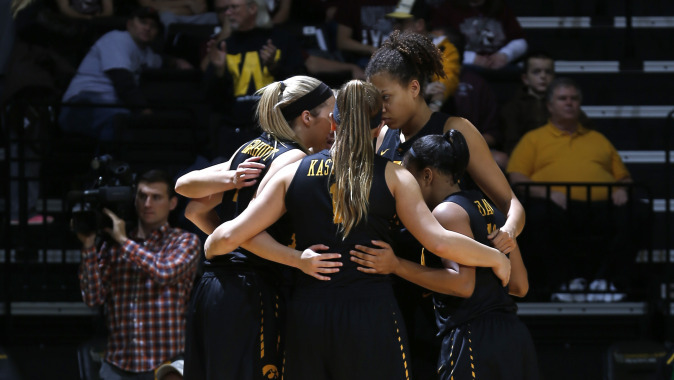 Dec. 30, 2015
Editor's Note: The following first appeared in the University of Iowa's Hawk Talk Daily, an e-newsletter that offers a daily look at the Iowa Hawkeyes, delivered free each morning to thousands of fans of the Hawkeyes worldwide. To receive daily news from the Iowa Hawkeyes, sign up HERE.
By JIL PRICE
IOWA CITY, Iowa — With 12 nonconference games under its belt the University of Iowa women's basketball team is ready to face the challenges of a grueling Big Ten Conference season.
The Hawkeyes begin their conference slate with a particularly difficult stretch. The squad will play its first six conference games within a 17 day stretch, three against teams who made the 2015 NCAA Tournament (at Nebraska, vs. Rutgers, vs. Maryland) and four on the road.
"We're entering Big Ten play in a good way with a 10-2 record," said UI head coach Lisa Bluder. "It is a grind going 18 games and having the tournament at the end of it. It's a marathon, not a sprint.
"The beginning of our Big Ten season is very challenging. We open up at Nebraska, host Rutgers, and go on the road. We have five games with only two day prep in between. There are two weeks before we get a day off for our players because we have a lot of games in a short amount of time. That's going to test us mentally and physically."
But Bluder knows her team will be ready for those challenges. The coaching staff and Iowa upperclassmen have been sharing information with the freshmen about what to expect on and off the court in the conference portion of the season.
"Our upperclassmen talk to them about the importance of every game in the Big Ten," Bluder said. "One game in the win or loss column can make a difference at the end of the season when you're looking at seeding for the Big Ten Tournament."
The advice has already been beneficial.
"They've told us the Big Ten is a gritty conference and you have to go in and compete night-in and night-out because every team is going to give you its best shot," freshman guard Tania Davis said. "We know we need to go in every arena and focus on the game plan.
"They've gotten me ready, now it's on me to go out there, play my game, and be settled on the court."
Iowa's conference opener is set for 1 p.m. (CT) on New Year's Eve in Lincoln, Nebraska. The Hawkeyes, who have won the last three games over Nebraska, know starting off with a conference win on the road against the Huskers would be a great momentum builder.
"We're ready," junior guard Alexa Kastanek said. "Especially with our road games we've put together a great product and are playing well as a team. We need to keep bringing the energy and enthusiasm into Big Ten play."
Kastanek, a native of Lincoln, Nebraska, is especially motivated to have a strong showing in the opener in front of family, friends, and fans who have supported her throughout her basketball career.
"There are a lot of people who I grew up with and who have followed my entire career, but haven't seen me play in person," Kastanek said. "It will be nice to go back to Pinnacle Bank Arena and have the opportunity to play in front of them."
Thursday's contest will be shown live online on BTN Plus available at btn2go.com.