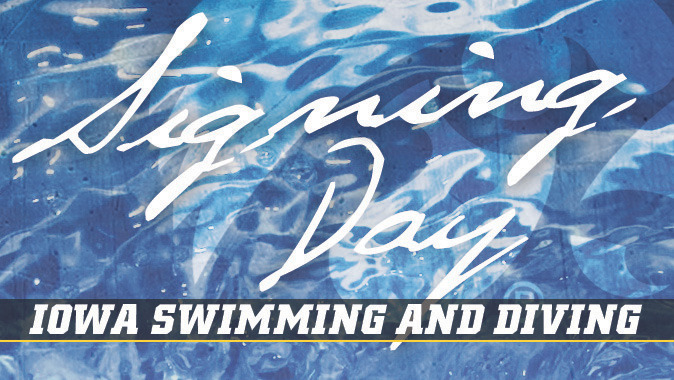 Jan. 5, 2016
IOWA CITY, Iowa — University of Iowa head swimming and diving coach Marc Long announced the signing of 15 student-athletes — eight men and seven women — to National Letters of Intent. The group will join the Hawkeyes for the 2016-17 season.
"We're looking forward to adding a class of talented students and athletes to our Hawkeye family," said Long. "It's a well-coached and dedicated group that will have an immediate impact within our program."
The men's class consists of three student-athletes from Iowa and Illinois, one from California, and one international signee from Italy. Two of the signees are high school All-Americans and six are Junior National qualifiers.
The women's class has two student-athletes from Iowa and Michigan, and one from Illinois and Colorado as well as one international signee from Great Britain. Four of the signees are All-Americans and three are Junior National qualifiers.
2016-17 Iowa Men's Swimming & Diving Recruiting Class
Name
Event
Hometown (Last School)
Alex Baldisseri
Breast
Merano, Italy (Merano Secondary)
John Colin
Sprint Free/Back
Dubuque, Iowa (Dubuque Senior)
Weston Credit
Breast
La Grange, Ill. (Lyons Township)
Steve Fiolic
Sprint Free
Urbandale, Iowa (Johnston
Joe Myhre
Sprint Free
St. Charles, Ill. (St. Charles North)
Will Scott
Sprint Free
Iowa City, Iowa (Iowa City West)
Alex Streightiff
Diving
Lake Bluff, Ill. (Lake Forest)
Forrest White
Back/Free
Danville, Calif. (De La Salle)
Alex Baldisseri
Breaststroke
Merano, Italy
Merano Secondary School
– Placed fifth in the 100 breast at the Italian Open and eighth in the 100 breast at the European Games
– Top Times: 50-meter breast (28.80), 100-meter breast (1:02.11)
– Club Coach is Marco Giongo
John Colin
Sprint Freestyle/Backstroke
Dubuque, Iowa
Dubuque Senior High School
– USA Swimming Summer and Winter Junior Nationals qualifier
– Two-time All-American (100 free as a sophomore, 100 back as a junior), three-time all-state, and four-time all-conference selection
– Was the Iowa state runner-up in the 100 back as a junior and 100 free and 100 back as a sophomore… helped Dubuque to a team state runner-up finish as a freshman
– Helped team to two conference team titles, swimming on the winning 200-medley relay as a freshman and junior
– School record holder in the 200 medley relay (1:35.50) and 100 back (50.48)
– Top times: 50 free (21.10), 100 free (45.67), 200 free (1:42.95), 500 free (4:44.08), 100 back (50.48), 100 fly (51.61), 200 IM (1:55.85), 50-meter free (23.97), 100-meter free (52.13), 100-meter back (58.88), 100-meter fly (58.55)
– Brother, Ben, is currently a freshman on the Iowa swimming and diving team
– High school coaches were Dan Duclos and Jesse Huff; club coach is Doug Colin
Why Iowa?
"I forever have been, and always will be, a Hawkeye."
Weston Credit
Breaststroke
La Grange, Ill.
Lyons Township High School
– 2015 Speedo Sectional and NCSA Junior Nationals qualifier
– Finished eighth in the 200-meter breast in 2:24.35
– Two-time Team MVP
– Second-team all-state selection as a junior; honorable mention all-state as a sophomore
– School record holder in the 200-medley relay (1:33.78), 100 breast (57.61), and 400-free relay (3:07.61)
– Top times: 50 free (21.98), 100 free (47.95), 100 breast (56.78), 200 breast (2:05.48), 200 IM (1:55.25), 100 breast LCM (1:06.44), 200 breast LCM (2:24.35)
– Also was a member of the 2015 Illinois state champion water polo team
– Parents, Rob and Alison Credit, were swimming All-Americans at Denison University; mother was a two-time NCAA Division III national champion in the 200 breast
– Honor Roll all four years, recipient of the Academic Letter Award, and Academic Chevron
– High school coach is Scott Walker; club coach is Adam Cremieux
Why Iowa?
"I feel the University of Iowa is the perfect fit for me. I felt at home during my visit, and the team and coaches were very welcoming and fun. I know this outstanding program will help me reach my goals in life and in the pool. I look forward to swimming as a Hawkeye!"
Steve Fiolic
Sprint Freestyle
Urbandale, Iowa
Johnston High School
– Competed at the 2015 Speedo Futures, finishing 10th in the 100-meter free in 52.84 seconds
– Finished third in the state in the 50 free and fourth in the 100 free as a junior
– Was sixth in the 100 free and eighth in the 50 free at the Iowa State Meet as a sophomore
– Top Times: 50 free (21.05), 100 free (46.28)
– Also was a state qualifier in track and field
– Earned an academic letter in 2013, 2014, and 2015
– Member of the National Honor Society
– High school coach is Shari Walling; club coach is Allan McCallum
Why Iowa?
"I chose to swim at the University of Iowa for the Division I experience, wonderful coaching staff, and the athlete-tailored facilities."
Joe Myhre
Sprint Freestyle
St. Charles, Ill.
St. Charles North High School
– Three-time All-American as a junior
– Competed in the NCSA Summer Junior Nationals, NCSA Spring Junior Nationals, and NCSA Winter Nationals
– Three-time state qualifier, two-time all-conference and all-state selection, and three-time team MVP
– Four-time conference champion in 100 and 200 freestyle
– Swam a split time of 20.06 in 200 free relay and 44.63 in 400 free relay as a junior
– School record-holder in the 50 free, 100 free, and 200-free relay
– Top times: 50 free (20.55), 100 free (45.09), 200 free (1:38.77), 500 free (4:37.17), 100 back (52.73), 200 back (1:53.22)
– High school coach is Rob Rooney; club coach is Tim Lewarchick
Why Iowa?
"When I first visited the University of Iowa I knew it was the school for me. All the students and swimmers were very nice and serious about their classes and what they do at practice. I'm looking forward to my career at Iowa and achieving all my goals both in and out of the pool."
Will Scott
Sprint Freestyle
Iowa City, Iowa
Iowa City West High School
– Summer Junior National qualifier
– All-American as a junior… two-time state qualifier
– Three-time state champion as a junior, winning the 200-free relay, 200-medley relay, and 400-free relay… also finished fourth in the 50 free
– Helped team to back-to-back state titles as a sophomore and junior
– School record-holder in the 200-free and 400-free relays
– Top times: 50 free (20.51), 100 free (45.50)
– High school coach is Rob Miecznikowski; club coach is Robert Pinter
Alex Streightiff
Diving
Lake Bluff, Ill.
Lake Forest High School
– Earned All-America honors as a junior, finishing fourth at the Illinois State Meet as a junior (458.25)
– Two-time all-conference, two-time team MVP, and two-time state qualifier
– Two-time conference champion
– Team co-captain as a senior
– Placed seventh on 1-meter, 10th on 3-meter at 2015 USA Diving Zone D Championships
– Won the 1-meter and was runner-up on 3-meter at 2015 Illinois Diving Association Championships
– Competed at the 2015 USA Diving Synchronized Diving National Championships, placing 15th
– 2014 and 2015 sectional champion, posting a Vernon Hills pool record of 534.80 in 2015
– School/pool record-holder on 1-meter
– Top scores: 1-meter (505.55), 3-meter (485.10)
– Academic Honor Roll
– High school coach is Pam Uhrik; club coach is Alik Sarkisian
Why Iowa?
"I chose the University of Iowa because it was where I felt at home right away and where I believe I could best meet my potential athletically and academically. The coach is great, the team is friendly, and I am excited to be admitted directly into mechanical engineering."
Forrest White
Backstroke/Freestyle
Danville, Calif.
De La Salle High School
– Junior National Qualifier (summer and winter) and National qualifier (winter)
– 2015 California Nevada Section champion in the 200-meter backstroke (2:06.10)
– Two-time All-American, earning the distinction as a sophomore and junior
– Two-time team MVP and team captain
– Finished in the top eight in three events at the California State Championship
– School record-holder in the 100 free (1:39.23), 100 back (49.69), 200 back (1:48.73), 200-medley relay (1:33.29), and 400-free relay (3:03.29)
– Top Times: 50 back (22.84), 100 back (49.80), 200 back (1:49.19), 50 free (21.11), 100 free (45.86), 200 free (1:39.23), 100 fly (50.34)
– USA Swimming Academic All-American and a Scholastic All-American as a sophomore and junior
– High school coach is Steve Guthrie; club coach is Ethan Hall
Why Iowa?
"I chose to be a Hawkeye because the moment I stepped on campus, I felt at home and was welcomed by the swimming family. I can't wait to represent such a great program like Iowa. Iowa not only fit all my athletic needs, but my academic ones as well. I can't wait to swim in the Big Ten Conference and help to put Iowa on everybody's radar."
2016-17 Iowa Women's Swimming & Diving Recruiting Class
Name
Event
Hometown (Last School)
Amelia Armstrong=Grant
Free
Ypsilanti, Mich. (Saline)
Hannah Burvill
Free/Back/IM
Pyrford, Great Britain (Notre Dame Senior School, Cobham)
Olivia Dopkiss
Diving
Rockford, Mich. (Rockford)
Allyssa Fluit
Free
Pleasant Hill, Iowa (Southeast Polk)
Meghan Hackett
Free/Fly
Cedar Falls, Iowa (Cedar Falls)
Amy Lenderink
Fly/Free
Parker, Colo. (Regis Jesuit)
Samantha Sauer
Free/Back
St. Charles, Ill. (St. Charles North)
Amelia Armstrong-Grant
Freestyle
Ypsilanti, Mich.
Saline High School
– Four-time All-American in 400 free relay… earned All-America consideration in 100 free in 2015
– Junior National qualifier in 100 and 200 free
– All-State selection in 100 and 200 free in 2012, 2013, and 2014… all state in 200 free in 2015… received 200-free relay all-state award in 2014
– School record holder in 100 and 200 free
– Top times: 100 free (51.10), 200 free (1:50.41)
– High school coach is Todd Brunty; club coach is Bailey Weathers
Why Iowa?
"The facilities are beautiful, there is a family atmosphere, everyone is friendly, the coaches are great and inspiring, and the team is welcoming. I feel like it's the best place for me because I know I'll improve, not just my times, but as a person. It's a special place; there is no place like it."
Hannah Burvill
Free/Back/IM
Pyrford, Great Britain
Notre Dame Senior School, Cobham
– National medalist in the 100-meter free (2011-gold, 2012-silver, 2014-bronze), 200-meter free (2011-bronze), 50-meter fly (2015-bronze), and 4×100-meter medley relay (2015-gold)
– British Championship qualifier from 2011-16
– Holds several South East Region, county, and club records
– Selected as part of the South East Regional team to compete in Barcelona (2014, 2015) in the Catalan Championships
– Will compete as part of South East Regional team in Geneva for the Challenge International Meet in January, 2016
– Top times: 50 free (22.60), 100 free (48.42), 200 free (1:45.00), 500 free (4:50.84), 100 back (54.05), 100 IM (55.50)
– Club coach is Vince Ayling
Why Iowa?
"I chose Iowa because of how welcoming the coaches were. After touring the facilities via Skype, there was no other university to consider."
Olivia Dopkiss
Diving
Rockford, Mich.
Rockford High School
– Junior National qualifier
– State qualifier and all-conference selection
– Holds pool record at Grand Haven High School
– Also competed in gymnastics, where she won eight state titles, four regional titles, and was top 100 in the country on vault, bars, beam, and floor
– Club coach is Buck Smith
Why Iowa?
"I chose Iowa because I visited campuses all over the country and none felt like home the way Iowa did. I loved the atmosphere, team, and coaches. It felt like a family."
Allyssa Fluit
Freestyle
Pleasant Hill, Iowa
Southeast Polk High School
– All-American and state finalist
– Team Most Valuable Player
– School record holder in the 200 and 500 free
– Academic all-state selection
– Top times: 100 free (50.1), 200 free (1:47.1), 500 free (4:50.20)
– High school coach is Adam Schulte; club coach is Mindy Aronow
Why Iowa?
"Iowa felt like home. The team and staff are incredible. I could picture myself doing well both in the classroom and pool."
Meghan Hackett
Freestyle/Butterfly
Cedar Falls, Iowa
Cedar Falls High School
– Three-time first-team all-state and four-time first-team all-conference selection
– Placed third in the 100 fly at the Iowa State Meet as a senior
– School record holder in the 100 fly, 200-medley relay, 200-freestyle relay, and 400-freestyle relay
– Member of the Cedar Falls High School Tiger Booster Club Hall of Fame
– Two-time member of Team USA, competing at the World Age Group Triathlon Championships
– Academic all-state and all-conference selection… recipient of the Iowa Senior Scholastic Award… 4.0 grade point average
– Top times: 100 free (53.3), 100 fly (56.8)
– High school coach was Richard Marcussen… also swam for Nick Lakin on the Black Hawk Area Swim Team (BLAST)
Why Iowa?
"Iowa offers outstanding biomedical engineering and a swimming program that will push me both academically and athletically. The coaching staff is extremely welcoming and I feel I can reach my full potential as a Hawkeye."
Amy Lenderink
Fly/Free
Parker, Colo.
Regis Jesuit High School
– Junior Nationals qualifier
– High school All-American… earned All-America consideration in 100 fly
– All-city and all-state team member for Colorado… four-time state champion in team relays… state runner-up in 100 fly in 2014
– Team captain and recipient of the team's "Iron Woman" award, given to the team's hardest worker
– Helped team to two high school championships
– Colorado record holder in the 200 free relay
– Three-time Scholastic All-American
– Member of the National Honor Society, Honor Roll – Highest Honors (4.0+ GPA), and recipient of the Regis Jesuit Loyola Award for Outstanding Leadership
– Top times: 100 free (52.04), 100 fly (55.1), 200 fly (2:02.57)
– High school and club coach is Nick Frasersmith
Why Iowa?
"The environment, team, and coaches at the University of Iowa were so welcoming, it made me feel like I was par of the team from the start. The swimming program and university offer me everything I need to thrive as a collegiate student-athlete. I am blessed and excited to become a member of the Hawkeye family."
Samantha (Sammy) Sauer
Free/Back
St. Charles, Ill.
St. Charles North High School
– 2015 All-American in 50 and 100 free and on all three free relays
– 2015 state finalist in 100 free and three relays, 2014 state finalist in 100 back and two medley relays
– Team record holder in 50 free, 100 free, 100 back, and 200, 400, and 800-free relays
– Top Times: 50 free (23.46), 100 free (51.22), 100 back (56.52)
– High school coach is Rob Rooney; club coach is Timothy Lewarchick
Why Iowa?
"It fits me perfectly for the major I intend to study, the level of swimming I want to be at, and the location. When I came to visit campus, it felt like home to me. I can't wait to continue my swimming career and start my college education being a Hawkeye."