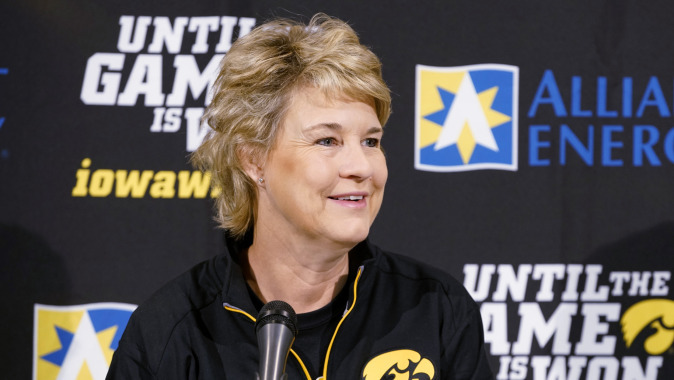 Jan. 10, 2016
IOWA CITY, Iowa — University of Iowa head women's basketball coach Lisa Bluder will meet with media at 2 p.m. (CT) Monday to discuss the No. 23 Hawkeyes' Big Ten Conference road games at Wisconsin on Wednesday and at No. 22 Michigan State on Saturday.
The briefing with local, regional and national media will be held in the Media Room inside Carver-Hawkeye Arena, and be available live from start to finish on Hawkeye All-Access, the multimedia portal inside hawkeyesports.com, the official worldwide website of the Iowa Hawkeyes.
Iowa enters the game with a record of 12-4 overall, 2-2 in the Big Ten Conference. Wisconsin is 6-8, 2-2 and Michigan State is 12-3, 3-1. Both the Badgers and Spartans won Sunday — Wisconsin knocked off Penn State, 82-62, and Michigan State defeated Northwestern, 74-51.
In addition to live coverage of each of Bluder's weekly news conferences, subscribers to Hawkeye All-Access also have exclusive access to weekly visits with the media of UI men's basketball coach Fran McCaffery, and head football coach Kirk Ferentz, live and exclusive coverage of Ferentz's, McCaffery's and Bluder's postgame news conference after home events, live and exclusive coverage of the weekly "Hawk Talk" radio shows of Iowa's head football, men's basketball, and women's basketball coaches, and the live play-by-play of every Iowa women's basketball game featuring the Hawkeye Radio Network's Brent Balbinot, and all football, men's basketball and wrestling events.
To become a subscriber to Hawkeye All-Access, click HERE.
To explore the offerings available inside Hawkeye All-Access, click HERE.