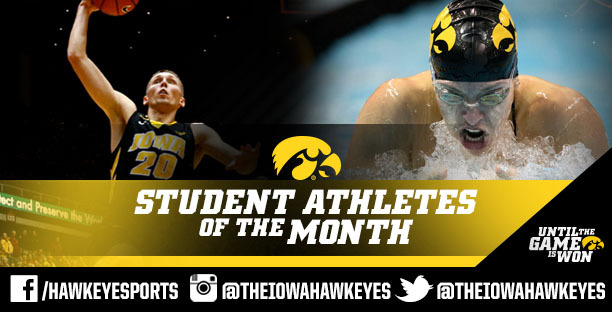 Jan. 12, 2016
IOWA CITY, Iowa — The University of Iowa's Student-Athlete Academic Services has recognized senior Jarrod Uthoff and junior Emma Sougstad as December's male and female Student-Athletes of the Month.
Voted on by their peers, this honor recognizes those student-athletes who have excelled not only in their sport, but in the classroom as well.
Uthoff, named a 2016 midseason All-American by ESPN and NBC, has helped the 16th-ranked Hawkeyes to a 12-3 overall record and a 3-0 record in conference play this season — Iowa's best start in league play since the 2002-03 season. He has scored in double figures in all 15 games this season and ranks second nationally in blocked shots (3.3) and 54th in scoring (18.6) — best in the Big Ten.
During the month of December, the 6-foot-9 forward guided the Hawkeyes to a 6-1 record, while averaging 17.1 points, 6.6 rebounds, and 3.9 blocks per game. He was named Big Ten Co-Player of the Week on Dec. 14 for his performances against No. 2 Iowa State (32 points, 9 rebounds, 4 assists) and Drake (10 points, 3 rebounds, 5 blocks). The Cedar Rapids, Iowa, native also helped the Hawkeyes to an 83-70 victory over then No. 1 Michigan State on Dec. 29, tallying 10 points in addition to grabbing five boards and rejecting a career-high six blocks.
Uthoff and the Hawkeyes return to action Thursday when they travel to East Lansing, Michigan, for a rematch with fourth-ranked Michigan State. Tipoff is scheduled for 6:01 p.m. (CT) and the game will be broadcast live on ESPN.
Sougstad, a qualifier for three events at last year's NCAA Championships, has broken three school records and posted two NCAA "B" qualifying times this year. She broke the record in the 50-free (22.63), 400-free relay (3:20.58), and the 400-medley relay (3:38.62).
The Forest City, Iowa, native was named Big Ten Swimmer of the Week by the league office on Dec. 16 after swimming to four first place finishes in Iowa's 198-101 triumph over Iowa State in the annual Iowa Corn Cy-Hawk Series matchup on Dec. 11. Sougstad set four Beyer Pool records — 100 (1:00.50) and 200 (2:12.95) breaststroke, 200 IM (2:01.39), and as a member of the winning 200-medley relay (1:40.29). Sougstad was also named the TeamUnify/CollegeSwimming.com Division I Women's Swimmer of the Week on Dec. 15.
Sougstad and the Hawkeyes are back in action on Dec. 16, hosting Illinois at 11 a.m. (CT) at the UI's Campus Recreation and Wellness Center Natatorium.