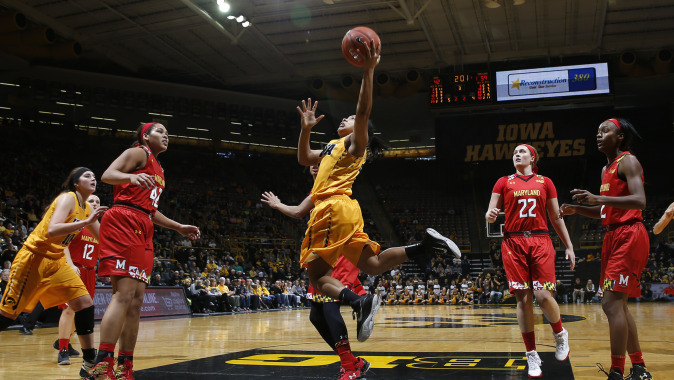 Jan. 14, 2016
Game Notes – at Michigan State

THE MATCHUP
The University of Iowa women's basketball team remains on the road for a Big Ten Conference contest at Michigan State on Saturday, Jan. 16. Tipoff is set for 3:30 p.m. (CT) at the Breslin Center in East Lansing, Michigan.
Game 18 | Iowa (13-4, 3-2) at Michigan State (12-4, 3-2)
Date:
Saturday, Jan. 16 | 3:30 p.m. (CT)
Location:
East Lansing, Michigan | Breslin Center
Watch:
Big Ten Network
Radio:
Hawkeye All-Access
Live Coverage:
Gametracker | Twitter Game Updates
All-Time Series:
Iowa leads, 35-26
GAME COVERAGE
? The Big Ten Network will air the Saturday afternoon game live. Lisa Byington (play-by-play) and Christy Winters-Scott (color) will call the game.
? Live audio of the game can be heard on select Hawkeye Radio Network affiliate stations and on Hawkeye All-Access available at hawkeyesports.com. Brent Balbinot and Stacy Schlapkohl will call the action.
? Balbinot is in his 12th year as Iowa's play-by-play voice.
? Schlapkohl, who played in 104 games with 49 starts from 2004-08, helped Iowa to three NCAA Tournaments. She scored in double figures in 22 games.
? Links to video, audio, and Gametracker (live stats) are available on the women's basketball schedule page at hawkeyesports.com.
NEAR PERFECTION
? Junior Ally Disterhoft flirted with perfection at Wisconsin on Wednesday.
? The 6-0 forward sunk 8-of-9 field goal attempts, was 1-for-1 from three-point range, and 1-for-1 at the free throw line to lead the Hawkeyes offensively with 18 points.
? She also pulled down five rebounds, two offensive and three defensive, dished out two assists, recorded two steals, and added a block in her 32 minutes.
? The Iowa City, Iowa, native has reached double figures in every game this season and in 62 of her 68 career starts.
COMING ON STRONG
? Sophomore point guard Whitney Jennings has hit her stride, improving significantly in conference play.
? In three of five league games, Jennings has scored in double figures (10 vs. Rutgers; 10 vs. Maryland; 11 at Wisconsin).
? The Logansport, Indiana, native is leading the team with 17 assists and owns a .378 field goal percentage and a .375 three-point field goal percentage in conference contests.
? She averages 9.0 points per game in conference games. In all 17 games, she averages 8.2 points per game and is shooting .319 from field goal range and .295 from beyond the arc.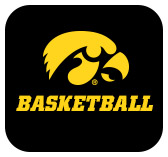 SERIES HISTORY
? Iowa leads Michigan State, 35-26, in the all-time series.
? The Hawkeyes have won three of the last five games in the series. Iowa won the matchup on the road in 2014-15, 52-50, fell at home in 2013-14, 88-72, fell on the road in 2012-13, 65-54, won at home in 2011-12, 74-57, and won at home in 2010-11, 66-64.
? This is the first season since 2010-11 that Iowa and Michigan State will play twice in the conference regular season.
? In the Lisa Bluder era, Iowa trails Michigan State, 13-12.
SCOUTING THE SPARTANS
? Michigan State enters the game with a 12-4 record overall and a 3-2 mark in Big Ten play.
? The Spartans fell at Ohio State in their conference opener, 85-80, before winning the next three conference games against Wisconsin, 77-67, at Penn State, 71-55, and against Northwestern, 74-51. The team dropped its most recent game at Indiana, 81-65.
? As a team, Michigan State averages 77.2 points per game. Four average double figures in scoring, including Aerial Powers (18.5), Tori Jankoska (16.8), Branndais Agee (11.3), and Jasmine Hines (10.4). Powers is also the team's leading rebounder, averaging 5.2 per game.
? In conference play alone, Powers averages a double-double with 20.0 points and 10.8 rebounds per game.
? Powers was a preseason All-Big Ten selection by the coaches and media, while Jankoska was selected preseason All-Big Ten by the media.
? The roster, comprised of five freshmen, five sophomores, two juniors and three seniors, is led by ninth-year head coach Suzy Merchant.
HAWKEYES HOLD OFF BADGERS
? The Hawkeyes held off of a fourth quarter surge to record a road win at Wisconsin Wednesday night, 57-54.
? Ally Disterhoft led the team in scoring with 18 points, hitting 8-of-9 field goals. Whitney Jennings joined her in double figures with 11 points.
? Christina Buttenham came off the bench to match her career-high and pace the Hawkeyes in rebounds with six, four offensive and two defensive.
? Iowa outrebounded the Badgers, 36-28.
? Depth made a difference for the Hawkeyes, as their bench outscored the Badger reserves, 12-2. MISS MICHIGAN RETURNS
Freshman Tania Davis, the Michigan Miss Basketball honoree in 2014-15, returns to her home state for Saturday's matchup at Michigan State. The 5-4 guard averages 19.5 minutes, 6.1 points, 2.6 rebounds, and 2.2 assists per game. The Grand Blanc, Michigan, native has appeared in all 17 games this season for the Hawkeyes with two starts.
CONSISTENT FORCE
? Junior forward Ally Disterhoft has been a consistent offensive weapon for the Hawkeyes this season.
? She has scored in double figures in all 17 games this season and in 62 of her 68 career starts.
? The Iowa City, Iowa, native leads the team in scoring, averaging 16.8 points per game. She is shooting .552 from field goal range and .375 from three-point land.
? Disterhoft has led Iowa in scoring in nine of 17 games this season, scoring 20 points or more in three contests.
? She is currently 21st on Iowa's all-time scoring list with 1,262 career points and 22nd all-time in rebounding with 523 career rebounds. Disterhoft is the 34th player in program history to surpass the 1,000 career point threshold.
? Disterhoft is second on the team in rebounds, averaging 5.6 rebounds per game, and in assists per game, averaging 3.0 per contest.
CHALLENGING B1G BEGINNING
? Iowa plays its first six conference games within a 17 day stretch.
? Three of Iowa's first six conference games are against teams who made the 2015 NCAA Tournament (at Nebraska, vs. Rutgers, vs. Maryland).
? Michigan, a team Iowa will face on the road during the six-game stretch, accepted an invitation to compete in the WNIT last season.
? Four of the games in this stretch are on the road, as the Hawkeyes play at Nebraska, at Michigan, at Wisconsin, and at Michigan State.
IOWAWBB.COM
Check out the Iowa women's basketball team's website, iowawbb.com, devoted to everything on-and-off-the-court surrounding the program. Iowawbb.com allows fans a chance to go behind the scenes with the Hawkeye basketball program. The site is complete with exclusive videos, photo galleries, and content featuring the basketball program.
UP NEXT
The Hawkeyes return to Carver-Hawkeye Arena to host Penn State on Wednesday, Jan. 20 at 7 p.m. Fans can watch the game live online on BTN Plus available at btn2go.com.