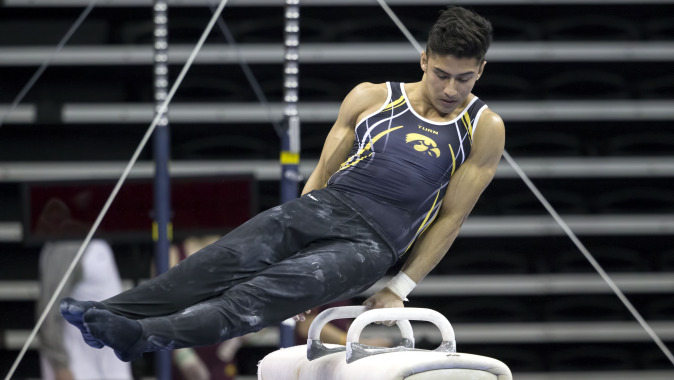 Jan. 17, 2016
Windy City Results

CHICAGO — The University of Iowa men's gymnastics team opened its 2016 regular season at the 46th Windy City Invitational to a fourth place (419.650) finish inside the UIC Pavilion on Sunday afternoon.
In a field where four of six teams were competing for the first time this year, Illinois (425.950) was atop the leaderboard after the final rotation, followed by Ohio State (425.700), Minnesota (424.500), Iowa (419.650), Michigan (413.700), and UIC (378.450).
"It was quite a fun meet," head coach JD Reive said. "We did a good job our first time out. Based on all the scores that were there, it was a competitive meet. Mark Springett had three great events, Matt Loochtan did a good job in the all-around and we had a really good mix of senior leadership and freshmen."
"After seeing this meet, the Big Ten will be a great, competitive conference this year."
The Hawkeyes started off slow on parallel bars with a 67.700 team score. Junior Cory Paterson and senior Jack Boyle both led team with matching scores of 13.800 to finish 11th in the overall standings.
Following Olympic order, Iowa headed to high bar for the second rotation. Junior Cory Paterson was locked in for his first high bar routine of the season, scoring 14.900 to lead the team. The 2014 Canadian national champion on high bar's score earned him a fifth place result overall. Loochtan followed Paterson's score up with a 14.500 of his own to close the gap. After two rotations, Iowa moved up to fourth in the team standings.
Boyle led the way with a 14.400 effort on floor exercise, followed by freshman Jake Brodarzon's 14.050. A 70.100 team score on the event pushed the Hawkeyes in to third place (209.350) at the halfway point.
Iowa moved to pommel horse for the fourth rotation, where junior Emmanuel Monroy led the team with a 14.400, followed by senior Del Vecchio Orozco (14.300). The team lost ground with a 67.600 team score and fell back to fourth place.
Iowa headed to rings for the fifth rotation, the team's best event in 2014-15, and the Hawkeyes responded with a meet high 71.900 team score. Junior Andrew Botto led the way with a 14.750 effort, followed by Loochtan (14.650).
Heading into the final rotation, Iowa held a firm grip on fourth place, but were looking for more. Junior Mark Springett set a new career high on vault with a 14.900, Loochtan put up another solid score with a 14.700, and freshman Todd Beyer II scored a 14.150 in his first collegiate competition. However, it was not enough for a top three finish.
Loochtan was the lone Hawkeye to compete all-around. He placed third overall with an 84.100 effort.
The Hawkeyes return to competition on Saturday, Jan. 24 against Illinois inside Carver-Hawkeye Arena. Season ticket holders and UI students receive a free slice of pizza at the meet, which begins at 1 p.m.