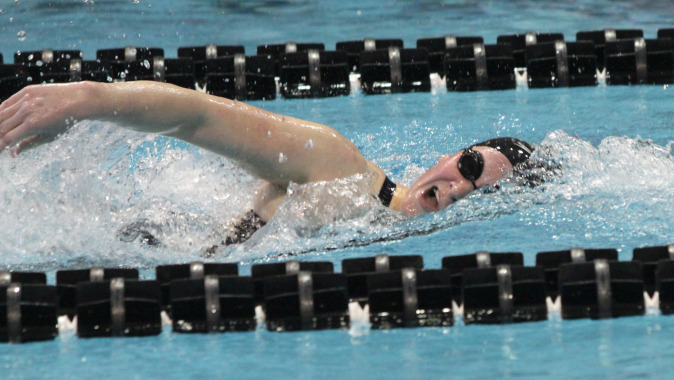 Jan. 30, 2016
Complete Results

SOUTH BEND, Ind. — The University of Iowa women's swimming and diving team went 2-1 at the two-day Shamrock Invitational at the Rolfs Aquatic Center, downing Illinois State (302-67) and Grand Canyon (202-167) and dropping a road dual to Notre Dame (258-111). The Hawkeyes are 7-4 in duals this season.
Iowa opened the day with a 2-3-4-5 finish in the 200-medley relay. Senior Allie Orvis, junior Emma Sougstad, sophomore Tereysa Lehnertz, and senior Olivia Kabacinski swam to a runner-up time of 1:43.41, while sophomore Meghan Lavelle, freshman Katie Wells, sophomore Jo Jekel, and sophomore Nikol Lagodzinska were third in 1:44.45.
Sougstad also won a pair of individual titles, claiming wins in the 100 breast (1:01.64) and 200 breast (2:15.42). It was her third win of the weekend, as she also won the 200 IM Friday night.
Freshman Abbey Schneider posted a win in the 1,650 free, finishing with a time of 17:11.19. Izzie Bindseil was fourth in 17:38.41. Lehnertz was the runner-up in the 200 fly, with a time of 2:03.29.
Iowa registered a pair of third-place finishes in the 400 IM and 200 free. Freshman Abbey Schneider took third in the 400-IM with a time of 4:26.98, while junior Serena Wanasek was third in the 200 free in 1:53.08.
In the final two relays, Iowa posted third-place finishes in the 400-free and 800-free relays. Wanasek, Kabacinski, Lagodzinska, and sophomore Carly O'Brien swam to a finishing time of 7:32.39 in the 800, and Lagodzinska, Sougstad, O'Brien, and Taylor Flummerfelt had a time of 3:26.00 to in the 400.
The Hawkeyes return to action Friday, hosting Western Illinois in their final home dual of the season at the CRWC Natatorium.