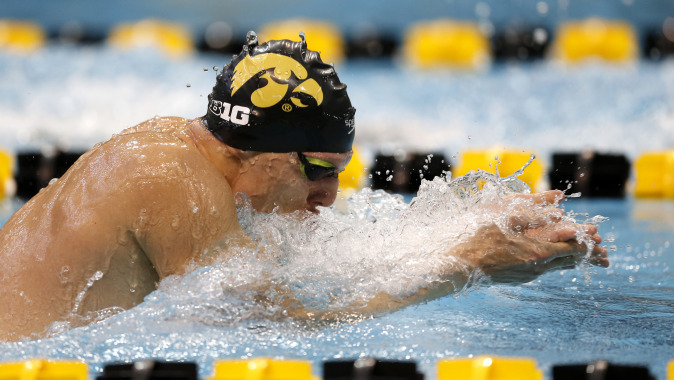 Jan. 30, 2016
Complete Results

SOUTH BEND, Ind. — The University of Iowa men's swimming and diving team went 2-1 at the two-day Shamrock Invitational, posting victories over Notre Dame (220-150) and Missouri State (243-121), while falling to Grand Canyon (202-168). The Hawkeyes are 5-3 in duals season.
Iowa opened the day with a runner-up finish in the 200-medley relay. Freshman Kenneth Mende, senior Roman Trussov, senior Jackson Allen, and freshman Jack Smith swam to a time of 1:28.56.
Trussov also notched a Hawkeye win, finishing with the top time in the 100 breast in 54.83 seconds. Trussov was also the runner-up in the 200 breast in 2:00.21.
Iowa had a number of runner-up finishes on the day.
Mende finished second in the 100 back in 48.77 seconds; senior Luke Snow placed second in the 200 free (1:40.09), sophomore Jerzy Twarowski was the runner-up in the 200 fly (1:49.51), and the 800 free relay of Snow, Jackson Allen, Smith, and freshman Matt Kamin was second in 6:39.74.
Sophomore Chris Dawson posted a pair of third-place finishes in the 400-IM and 1,650 free. He finished with a time of 4:01.72 in the 400 IM and 15:54.47 in the mile.
Mende also notched a third-place finish in the 200 back (1:48.41), Twarowski was third in the 100 fly (48.47), and the 400-free relay consisting of Snow, Smith, Jackson Allen, and Kamin were third in 2:59.92.
Iowa flourished in the diving well Saturday, finishing with the top three finishes off the 1-meter springboard. Freshman Will Brenner was the 1-meter champion with a score of 327.10, followed by senior Addison Boschult (308.80), and senior Brandis Heffner (301.25).
The Hawkeyes return to action Friday, hosting Western Illinois in their final home dual of the season at the CRWC Natatorium.