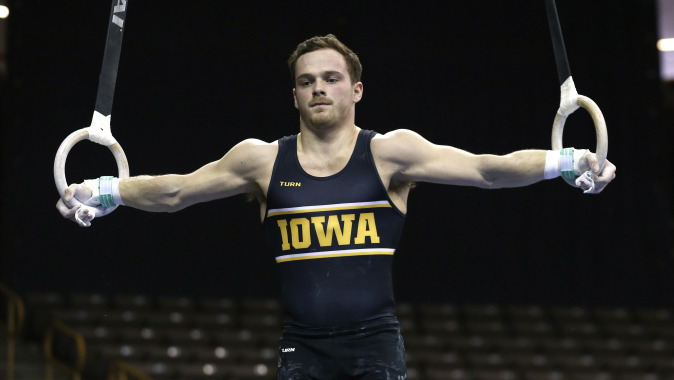 Jan. 30, 2016
Editor's Note: The following first appeared in the University of Iowa's Hawk Talk Daily, an e-newsletter that offers a daily look at the Iowa Hawkeyes, delivered free each morning to thousands of fans of the Hawkeyes worldwide. To receive daily news from the Iowa Hawkeyes, sign up HERE.
By JACK ROSSI
IOWA CITY, Iowa — Coming off back-to-back meets is difficult in the world of gymnastics. The University of Iowa men's gymnastics team can't afford to slow down with a meet Saturday against top-ranked Oklahoma and No. 8 California.
The Hawkeyes scheduled back-to-back meets last weekend, hosting fourth-ranked Illinois. Iowa battled until the last rotation before the Fighting Illini pulled away and secured victory by the slimmest margin, 431.150 – 430.850.
It didn't take long for the Hawkeyes to move on, as the team posted an impressive victory at Illinois Chicago the next day. Senior Doug Sullivan broke his own school record, four Hawkeyes had career bests, and even more set season bests on their way to a 431.800 – 388.100 win. UI head coach JD Reive knew his team was ready for another step.
"Rarely do we do this kind of stuff," said Reive. "When the opportunity presented itself, it made sense because of where we are physically and mentally. The opportunity to get in front of judges two days in a row and work through the nerves and anxiety of competing was tremendous."
But a 1-1 record for the weekend can be deceiving. Since the College Gymnastics Association switched to the international FIG scoring system in 2006, Iowa has not scored above an overall team score of 430.000 until at least February. In 2016, they have done it twice, in January.
Iowa will need to set the bar even higher Saturday in Norman against the reigning national champions.
Oklahoma enters the meet ranked first overall by roadtonational.com with an average team score of 446.375. Individually, the Sooners hold the top gymnasts in the country on vault (Hunter Justus, 15.450) and parallel bars (Yul Moldauer, 15.800).
To compete against Oklahoma, Iowa will have to count on its depth.
That depth comes from competitions in the gym among the gymnasts. Each gymnast pushes each other to be the best, striving to get a spot in the weekend lineup. Two gymnasts that have been benefitting from the competition this season are sophomore Dylan Ellsworth and junior Mark Springett.
Ellsworth competed all-around against Illinois and set a new career-best on parallel bars with a 15.200 en route to his first event title of the season. Against UIC, Ellsworth claimed a second event title, setting a career-high on vault with a 15.350. As for Springett, after competing once in his first two seasons, he has competed on floor, rings, and vault in every meet this season.
"(Springett) has just worked hard over the last two years," Reive said. "He has put in a lot of work and time. If you look at his scores from the last two weekends, he is contributing. He has earned his way and we are proud of him."