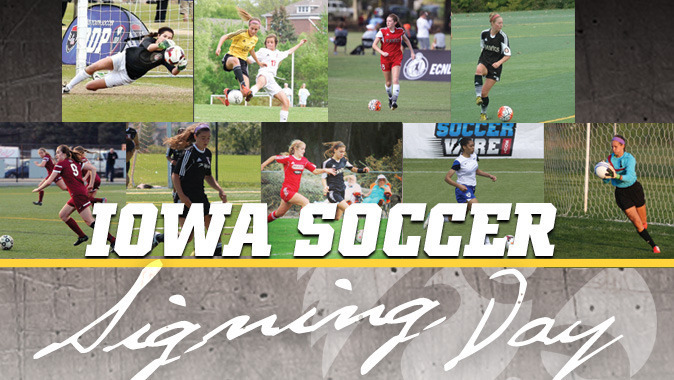 Feb. 4, 2016
IOWA CITY, Iowa — University of Iowa head soccer coach Dave DiIanni announced the signing of a nine-player recruiting class that will join the Hawkeye soccer program in 2016.
"This class has a little bit of everything, and I know these players are chomping at the bit to step in and compete for playing time immediately," said DiIanni. "They play crucial roles for some of the top club and high school teams across the country. We want to keep getting more athletic, competitive, and technical, and we accomplished that with this class.
"Our current players are working hard to create a culture of work ethic, accountability, and high expectations, and these nine student-athletes will only enhance that. These ladies are all good students and high character individuals who will be great ambassadors of our university, athletics department, and soccer program within the community."
The class consists of players from five states — three from Michigan, two from Iowa, and one from Illinois, Indiana, Virginia, and Canada. There are three midfielders, two goalkeepers, two forwards, and two defenders. Three of the players played club soccer together for the ECL Michigan Hawks.
2016 Iowa Soccer Recruiting Class
Name
Pos.
Ht.
Hometown (Last School)
Isabella Blackman
MF
5-6
Bettendorf, Iowa (Bettendorf)
Sydney Blitchok
MF
5-7
Grandville, Mich. (Grandville)
Devin Burns
F
5-5
Green Oaks, Ill. (Loyola Academy)
Hannah Drkulec
D
5-8
Windsor, Ontario, Canada (St. Anne)
Olivia Fiegel
F
5-9
Springfield, Va. (Robinson Secondary School)
Claire Graves
GK
5-8
Noblesville, Ind. (Noblesville)
Cora Meyers
GK
6-0
Riverdale, Iowa (Pleasant Valley)
Leah Moss
D
5-6
Plymouth, Mich. (Salem)
Natalie Winters
MF/D
5-5
Plymouth, Mich. (Canton)

Isabella Blackman
5-6, Midfield
Bettendorf, Iowa
Bettendorf High School (Todd Hornaday)
Iowa City Alliance (Paul Dayrell)
– All-state selection as a sophomore
– Two-time all-conference and all-area honoree… two-time Team Defensive Most Valuable Player
– Iowa Gatorade Player of the Year nominee
– Helped team to two MAC Conference titles in 2013 and 2014 and to three sixth-place state finishes
– Scored three goals and had three assists in 18 games as a freshman, one goal and five assists in 19 games as a sophomore, and five goals and two assists in nine games as a junior
– Played for Iowa City Alliance Club Team… won a State Cup title in 2013 and was runner-up in 2014… two-time USYSA Region II qualifier (2013, 2014)… USYSA Nationals qualifier in 2013
– USYSA ODP Region II player from 2012-15, attending National Camp in Phoenix in 2012-13, Inter-Regionals in Boca Raton, Florida, in 2014, and the Costa Rica Tournament Team in 2015
– Was a USYSA ODP team member from 2011-14, helping squad to a runner-up finish at nationals… was named the "Star Girl" by TopDrawerSoccer.com
– Also was a three-time state qualifier in cross country, helping team to a third-place finish in 2015
– Earned three all-area honors and was an all-conference selection in 2015
– Member of the National Honor Society and Student Council
– Four-year Honor Roll recipient, three-year academic letter, academic all-conference as a junior, and academic all-state in cross country in 2015
– Grandfather, John Blackmon, and great grandfather, Ken Blackmon, played baseball at Iowa… Ken played professionally at Triple A-level with Cincinnati Reds
Why Iowa?
"I chose the University of Iowa because the campus is filled with both strong academics and athletics. From a soccer standpoint, I was sold with coach DiIanni's enthusiasm to not only turn Iowa soccer into a thriving program, but help me reach my full potential as a player."
Coach DiIanni on Blackman:
"Isabella is a versatile soccer player that has the tendency to rise to whatever challenge or obstacle is put in front of her. We were excited to keep Isabella home, playing for her in-state university and representing the Hawkeyes. Her fitness level and athleticism will be key factors in pushing for early playing time next fall."

Sydney Blitchok
5-7, Midfield
Grandville, Mich.
Grandville High School (Lewis Robinson)
Midwest United FC (Josh Sheldon)
– First-team all-state, MIHSAA Girls' Soccer Dream Team, and MLive all-area team as a senior… second-team all-state as a sophomore, honorable mention all-state as a freshman… two-time all-conference and all-region honoree – Helped team to a Michigan Division 1 runner-up finish in 2013 and a regional final finish in 2014 – Played for Midwest United FC, serving as team captain for four consecutive years… helped team to Michigan State Cup quarterfinals in 2013 and 2015 and semifinals in 2014 – Class Salutatorian… National Honor Society member… Grandville High School Academic Award recipient in 2014 and 2015
Why Iowa?
"I chose the University of Iowa because I knew I wanted to play for a Big Ten Conference school that not only had great academics and a great soccer program, but one that felt like home. Iowa City is the best college town I visited. Everyone that I have interacted with there, from coaches to fans, has made it feel more like a community than just a campus."
Coach DiIanni on Blitchok:
"Sydney will bring an intelligent, hard-working mentality every day she competes on the soccer field. We are excited to watch the impact she has in our program on the field, as a student, and leader. She has the ability to play multiple positions centrally as a midfielder or defender and is able to connect and dictate the tempo and rhythm of the game because of her technical ability."

Devin Burns
5-5, Forward
Green Oaks, Ill.
Loyola Academy (Craig Snower)
FC United Select (Craig Snower)
– Two-time IHSSCA All-Sectional and GCAC All-Conference honoree… team captain as senior
– 2013 Comcast Sports Net Athlete of the Week and a Chicago All-Area selection as a sophomore
– Scored 56 goals and had 14 assists during freshman and sophomore seasons, including a single-season school record 35 goals as a freshman… missed junior season because of injury
– Helped team to two GCAC titles, a 2013 3A Sectional championship and a 2014 3A Regional title
– Member of FC United Select 97/98… USYSA Region 2 champions (2016), USYSA National Semifinalist (2014), Disney Showcase champions (2014), SC Del Sol PDT champions (2013, 2015)
– USYSA National League participant (2012/13, 2014/15, 2015/16)… team captain of U17 and U18
– Member of 2013 Illinois ODP Program Region 2 championship team… four-time member of ODP state team
– Id2 National Training Camp attendee in Irvine, Calif.
– Loyola Scholar from 2013-15
– Older sister, Corey, is a junior on Iowa soccer team
Why Iowa?
"Many of my family members have attended the University of Iowa, so it feels like home to me. I love the city and atmosphere, and I couldn't pass up a chance to play soccer for the Hawkeyes."
Coach DiIanni on Burns:
"Devin is another Hawkeye in a long line of family members attending the University of Iowa. We can't wait for her to get on campus and begin her collegiate career. Devin brings a tenacious ability to create space around defenders with the use of physicality and creativity, while being clinical around the goal. These are skills that will help her be competitive for playing time next fall."

Hannah Drkulec
5-8, Defender
Windsor, Ontario, Canada
St. Anne High School (Mrs. Stanski)
Eastside Kickers/Michigan Hawks (Adil Salmoni)
– Played on the Croatian Women's National Team in 2015
– Two-time all-conference… team captain as a junior
– Named the Rookie of the Year as a sophomore… team MVP as a junior
– Played for the East side Kickers (2009-14) and Michigan Hawks from 2014-16
Why Iowa?
"The University of Iowa has a great academic reputation. I also felt comfortable with the coaching staff and the campus. It was a good fit for me."
Coach DiIanni on Drkulec:
"Hannah is an intelligent and athletic soccer player that fits the mold of someone who can compete and be successful immediately in the Big Ten Conference. She has competed at the highest level for the Croatian National Team, so she won't be intimated by the speed of the game. We love how strong and physical she is in the air competing for a ball and with her speed, she should have a good opportunity to compete for minutes next year."

Olivia Fiegel
5-9, Forward
Springfield, Va.
Robinson Secondary High School
Braddock Road Youth Soccer Club (Larry Best, Jim Abt)
– Played club soccer for the Braddock Road Youth Soccer Club, helping team to USYSA National League championship, a third-place finish at USYSA National Championships
– BRYSC is the current Virginia State Cup champions
– Member of the Braddock Road Stars Elite USL Women's W-League and W-20 teams… twice named to the USL honorable mention W-League Team of the Week in 2015
– Recipient of the USL Women's W-20 League Golden Boot (Top Scorer Award) in 2015
– Father, Douglas, played collegiate soccer at Notre Dame
Why Iowa?
"I chose the University of Iowa because it had the best mix of everything I was looking for. It has a college-town atmosphere, a strong soccer program, and my preferred major. Iowa has everything I was looking for in a college and was the best decision for me."
Coach DiIanni on Fiegel:
"Olivia is an athletic forward that has the versatility to play multiple positions across the front line. The presence she has on the field can be dangerous and impactful, with the ability to stretch the game behind the backline and connect with the midfielders as a target forward. She will bring a physicality and energetic presence to our roster. We are excited to have Olivia join the Hawkeye family."

Claire Graves
5-8, Goalkeeper
Noblesville, Ind.
Noblesville High School (Michael Brady)
Carmel United Soccer Club (William Gage)
Ohio Premier (Brett McIntosh)
Indy Premier (Kirby Valle)
– Three-time all-state, first-team all-district and all-county selection… earned first-team all-state honors as junior and senior… second-team as a sophomore
– First-team all-conference as a senior, leading team to the Hoosier Crossroad Conference championship
– Helped team to a 42-16-10 record in high school career, including 12 victories as a senior
– Played club soccer for Carmel United Soccer Club (U13-15), Ohio Premier (U16-18), and Indy Premier (U16-18)
– Selected for ECNL PDP id2 from 2013-15
– Member of the ODP Regional Team
– National Honor Society member… two-time academic all-state by the ISCAA… also academic all-state by ICGSA
– Top 10 percent all four years… all "A" Honor Roll all four years
Why Iowa?
"Ever since I was a little girl, I knew I wanted to play for a Big Ten Conference school. The University of Iowa has exactly what I am looking for academically and athletically. Every time I visit, I feel like it's the perfect place for me. The atmosphere and people are unique and welcoming."
Coach DiIanni on Graves:
"Claire is a goalkeeper with great athleticism and presence in goal. I'm excited to work with Claire and we feel she has the ability to challenge and contribute right away for playing time in goal. Her work rate and competitive nature are phenomenal; we are very excited to have Claire join us this fall."

Cora Meyers
6-0, Goalkeeper
Riverdale, Iowa
Pleasant Valley High School (Richard Markham)
Iowa Soccer Club (John Cook)
– Two-time second-team all-state selection… two-time first-team all-district honoree… three-time all-conference honoree, earning first-team as a junior, second-team as sophomore, and honorable-mention as freshman
– Helped team to Iowa High School State semifinals as freshman and sophomore and a runner-up finish in 2015
– Posted four shutouts en route to ODP Region II championship in 2014 and won second Region II title in 2015… selected to ODP Region II team and led team to Iowa State Cup semifinals in 2014 and 2015
– Led team to a second-place ODP nationals finish in Arizona
– Also plays for the Quad City Eagles WPSL
– Also participated in volleyball and cross country
– 2015 all-conference academic team selection
Why Iowa?
"I chose the University of Iowa because after meeting the team and coaching staff, it felt like home. The coaching staff is dedicated and I like their style and vision for the future. Iowa offers exemplary academics and the academic support and resources are some of the best. I look forward to the competition the Big Ten Conference has to offer."
Coach DiIanni on Meyers:
"Cora is a great addition to our goalkeeping crew. She has a solid skill set and physically is someone who has a lot of potential. We are excited that Cora is a Hawkeye and look forward to the immediate depth she will provide to the position"

Leah Moss
5-6, Defender
Plymouth, Mich.
Salem High School (Scott Duhl)
ENCL Michigan Hawks (Adil Salmoni)
– Played for the ENCL Michigan Hawks for seven years… helped team to the 2011 MSYSA Girls State Cup championship
– Honorable mention Division 1 all-state, all-district, all-region, and All-KLAA selection as a sophomore… also was an All-Observer Girls first-team honoree
– Two year letterwinner in basketball, helping team to a 10-0 division record, KLAA championship, and NHSAA district title
– Two-time Scholar Athlete selection
Why Iowa?
"One of the many reasons I love the University of Iowa is the Big Ten atmosphere with the at-home feeling. I had always dreamt of playing collegiate soccer at a Big Ten Conference institution. After visiting Iowa, I felt it would be the perfect home away from home."
Coach DiIanni on Moss:
"It has been a pleasure to track Leah's growth as a student-athlete in her club and high school experiences. She will add a great deal of versatility along the backline next year as a defender. She is technical and smooth on the ball, while having good range defending by line to by line. Her experience as a multi-sport athlete will serve her well playing in the Big Ten Conference because of her competitive nature."

Natalie Winters
5-5, Midfield/Defender
Plymouth, Mich.
Canton High School (Jennine Reddy)
ENCL Michigan Hawks (Adil Salmoni)
– Member of the ECNL Michigan Hawks from 2009-16
– Played at the U18 National Team Camp in Dec., 2015, and the U19 National Team Camp in Oct., 2015
– Named a top 11 player from ENCL National Team Camp in July, 2015, and a top 10 standout from ECNL National Team Camp in July, 2014
– Member of the ODP 98 State team from 2010-13 and the ODP 98 Regional Team in 2012 and 2013
– Helped team to the U13 State Cup title in 2011
– Two-time all-conference and all-area selection… earned all-district, all-region, and honorable mention all-state honors as a sophomore… did not play high school soccer as junior or senior
– Also was an honorable mention all-state, All-West third-team, and all-conference selection in basketball… four-year starting point guard, helping team to the state championship game as a sophomore
– Older sister, Lindsey, played college soccer at Olivet College in Michigan… older sister, Rachel, plays soccer at Bowling Green State… mother, Julie, played collegiate basketball at Oakland University
Why Iowa?
"I chose the University of Iowa because it is a home away from home to me. I loved the atmosphere and feeling it gave off. Downtown Iowa City was such a nice aspect that I wanted to be a part of. Iowa gave me reassurance that I wanted to spend my next four years here."
Coach DiIanni on Winters:
"Natalie is a fantastic addition to the program. I like the intelligence and versatility she brings to the game of soccer. She has the ability to make all the players around her better and raise their game to match hers. We feel she can be successful in multiple positions throughout her Iowa career, and we look forward to getting her on campus soon. Her experiences playing in the U.S. Soccer Youth National Team program should help her assimilate to the Big Ten Conference-level quickly."