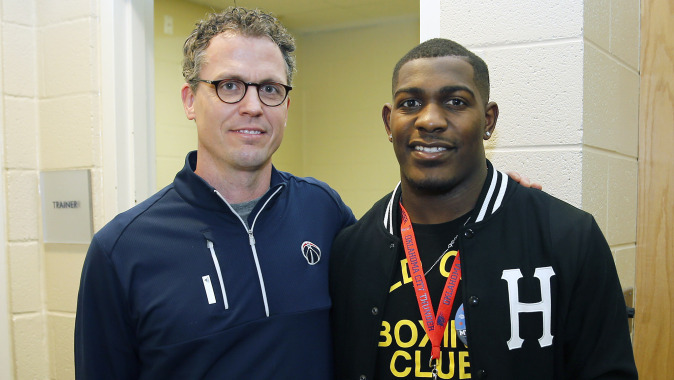 Feb. 8, 2016
Editor's Note: The following first appeared in the University of Iowa's Hawk Talk Daily, an e-newsletter that offers a daily look at the Iowa Hawkeyes, delivered free each morning to thousands of fans of the Hawkeyes worldwide. To receive daily news from the Iowa Hawkeyes, sign up HERE.
By DARREN MILLER
hawkeyesports.com
OKLAHOMA CITY — At 7 years, Eric Waters of Belle Plaine was the youngest donor to the Carver-Hawkeye Arena construction project, contributing $5 to the University of Iowa Athletics Department with money he raised collecting cans.
"I bled black and gold," Waters said. "They had me down for the groundbreaking ceremony at Carver-Hawkeye Arena and I met Lute Olson, Ronnie Lester, and Bump Elliott. There was no doubt where I wanted to go (to college)."
Waters attended the UI from 1989-95, earning bachelor's degrees in exercise science (athletic training) and psychology.
On Feb. 1, Waters and UI athletics intersected again at Chesapeake Energy Arena in Oklahoma City. While UI junior cornerback Desmond King was being serenaded at the Thunder-Washington basketball game for winning the Jim Thorpe Award, Waters looked on as head athletic trainer for the Wizards.
Waters, 44, hasn't been to Iowa since 2011, but he intends on returning this summer to tour the Hawkeyes' basketball and football facilities. He also hopes to attend the Iowa-Iowa State football game in Kinnick Stadium.
Waters is one of two UI graduates working as an athletic trainer in the NBA. Jason Miller, who went through school the same time as Waters, is an assistant for the Denver Nuggets. Ryan Bowen, who played basketball for the Hawkeyes from 1994-98, is an assistant coach in Denver.
A position in professional sports wasn't handed to Waters. After graduating from Iowa, he attended graduate school at Boise State and worked with the Broncos football team that moved up to the Football Bowl Subdivision level in 1996. He was in Idaho from 1995-98, spending spring semesters in 1997 and 1998 working for the Rhein Fire and London Monarchs in NFL Europe.
"That was awesome. I traveled all over Europe in my 20s," Waters said.
From 1998-99, Waters returned to the UI, where he assisted with the football and women's basketball programs. He then spent a year at Northwestern University, working with football and wrestling.
"I kept knocking on doors all over. I would send letters to every professional sports team all over the country. I said I would do anything they needed for free: Take inventory, sweep floors, do treatments, whatever they needed."

Eric Waters
Wizards head athletic trainer
"I kept knocking on doors all over," said Waters, who also interned with the Carolina Panthers in 1997. "I would send letters to every professional sports team all over the country. I said I would do anything they needed for free: Take inventory, sweep floors, do treatments, whatever they needed."
The Chicago Bulls replied to Waters' request in the summer of 1999, saying they needed someone to monitor their training room a couple days a week. When a Bulls assistant accepted a head trainer position with the Atlanta Hawks, Waters interviewed in Chicago and received the job.
He spent four seasons with the Bulls (2000-04) before being hired as head athletic trainer for the Wizards for the 2004-05 season. He has been there since.
Waters arrived at both Chicago and Washington moments after Michael Jordan left those teams.
"When I got to Chicago there were still Champaign bottles and confetti on the floor," Waters joked. "I missed the party."
Waters also serves as traveling secretary for the Wizards, scheduling transportation and practice times on the road. For a game day away from the Verizon Center — like Feb. 1 in Oklahoma City — Waters can expect to work from 8:30 a.m. to 10:30 p.m.
"The hardest part about my job is maintaining balance between the needs of the athlete, organization, and coaches," Waters said. "I'm the hub of information for all of them and you still have to be able to see the 30,000-foot view."
Waters reflects often on his days at the UI and the knowledge he gained there.
"I can't say enough about the people in each one of those training rooms at that time," he said. "They had so much experience: Dan Foster, John Streif, Ed Crowley, Faye Thompson, Mike Lawler. They had one of the most experienced staffs in the United States. John Albright was the doctor."
As an undergraduate, Waters was especially impressed that he was allowed to take a cadaver anatomy class offered to students in medical school.
"Nobody else in the country did that," Waters said. "That was an amazing experience."
Waters resides in the Cleveland Park neighborhood in Washington, D.C.
"I would like to get married and have a family," Waters said. "That will change the game a little, I'm afraid. I'm very happy with what I'm doing; the challenge is great — our world is changing with the technology and all the things that come with it. You never know how long you will be here with this job at the NBA level. You could be gone tomorrow."
The Thunder defeated the Wizards, 114-98, on Feb. 1. Washington (22-27 overall) takes on the New York Knicks on Feb. 9 in Madison Square Garden.