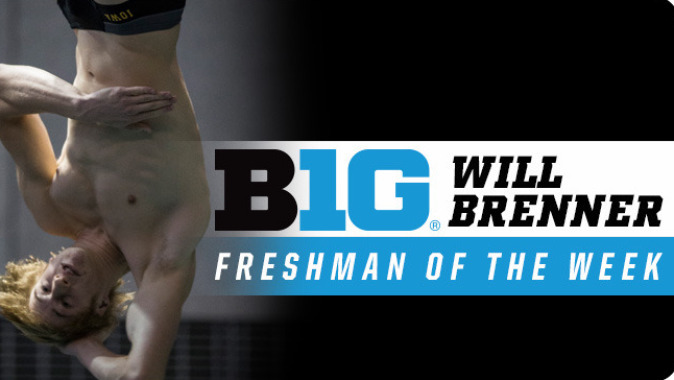 Feb. 10, 2016
IOWA CITY, Iowa — University of Iowa diver Will Brenner has been named the co-Big Ten Freshman of the Week, it was announced Wednesday by the league office. The honor is the second of Brenner's career.
"It's great to see Will get recognized for his outstanding contributions to the team," said UI head coach Marc Long. "He is certainly an athlete that is on the rise."
The Ypsilanti, Michigan, native earned the distinction after diving to a victory off the 1-meter springboard in Iowa's regular season finale against Western Illinois on Feb. 5. Brenner finished with an NCAA Zone qualifying standard of 361.00 — his second-best score of the season.
Brenner has won three straight competitions off the 1-meter and has been victorious in four meets this season. His career-best score of 365.00 is an Iowa school record.
"This is a great honor for Will, and I am very proud of him," said UI diving coach Todd Waikel. "He is a hard worker and it is paying off."
Brenner was previously honored Dec. 9 after winning the 1-meter springboard at the 2015 Hawkeye Invitational.
Iowa returns to action Feb. 24-27, traveling to West Lafayette, Indiana, for the 2016 Big Ten Championships.