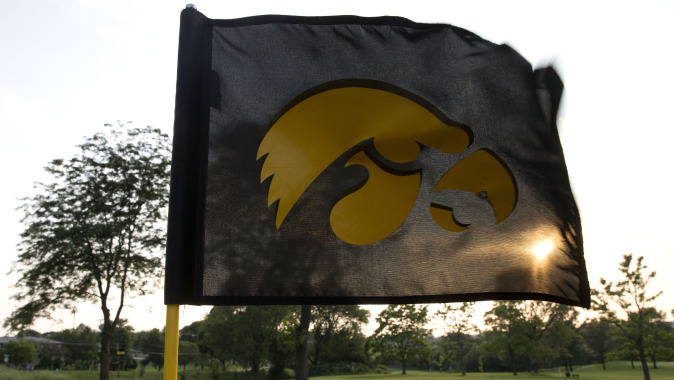 Feb.. 12, 2016
Editor's Note: The following first appeared in the University of Iowa's Hawk Talk Daily, an e-newsletter that offers a daily look at the Iowa Hawkeyes, delivered free each morning to thousands of fans of the Hawkeyes worldwide. To receive daily news from the Iowa Hawkeyes, sign up HERE.
BY SAM STYCH
hawkeyesports.com
IOWA CITY, Iowa — It has been nearly 3 1/2 months since the University of Iowa men's golf team last competed, meaning the Hawkeyes are more than ready to tee it up at this weekend's Big Ten Match Play Championships in Palm Coast, Florida.
"The guys are eager to get going," said second-year head coach Tyler Stith. "They've all been working hard since they got back from winter break. The effort they have been putting in has been phenomenal. Everyone is excited to be competing again."
The Hawkeyes have had their fair share of success at the annual match play event. Since its inception in 2009, Iowa has notched three third place finishes, which includes last season.
This year the goal is to be in a position to win it all.
"Our goal is to get to the championship match," said Stith. 'We've never been in the championship match for as long as this event has been around. Our goal is to get there so that we have the opportunity to win on Saturday."
The road to the championship will be different this year. Previously, the two-day event used a tournament format where teams earned seedings based on rankings, with the top teams earning first round byes.
With only 10 teams competing in the field, teams were split into East and West Divisions. The East includes Indiana, Michigan, Michigan State, Penn State, and Rutgers, while the West Division includes Iowa, Minnesota, Nebraska, Northwestern, and Purdue.
Each school will play two matches against schools within its division in addition to a cross-division match before matching seeds face each other in the final round.
"It's an interesting format and I think our committee did the absolute best with what they could," said Stith. "It's something new and I know that the team and myself are excited for it."
While there are different philosophies in match play competition, the Hawkeyes plan to focus on a match-to-match, day-to-day basis. They also received advice from a former Hawkeye leading into the weekend.
"Earlier in the week we talked to one of our former golfers, Vince India, who was a good match play player," said senior Nate Yankovich. "He told us to play the golf course and not our opponent. He also told us to keep our emotions in check and to not wear our emotions on our sleeves. If we can do that, we'll have a good chance to come out on top."
"In match play, it's never over until the fat lady sings, crazy things can happen," said junior Carson Schaake. "It's a mental game and if you can keep putting the pressure on your opponent and grinding, it can be a fun game."
The Hawkeyes face Nebraska at 8 a.m. (CT) and Purdue at 1:15 p.m. in today's first and second rounds. On Saturday, Iowa faces Michigan in a third-round contest before squaring off against a yet to be determined at 1:15 p.m. to close out the event.