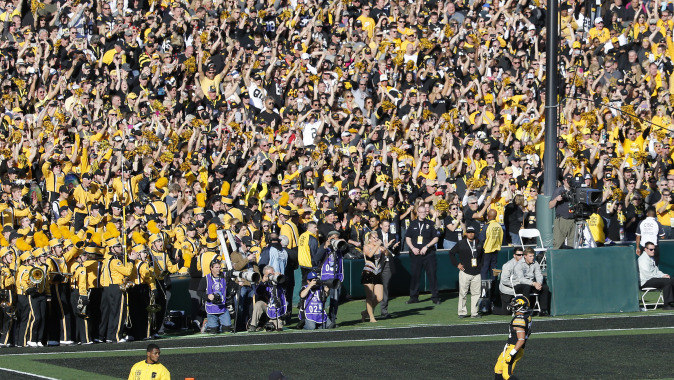 Feb. 15, 2016
IOWA CITY, Iowa — The 2016 University of Iowa football season ticket process has been launched, allowing fans of the Big Ten West Division champion Hawkeyes to submit season ticket requests to the UI athletics ticket office.
Season ticket renewal forms are available online and are being mailed to individuals who purchased 2015 season tickets. The cost for those renewing season tickets is $405. New or additional season tickets will be available for $415. Season ticket holders earn ticketing priority over the general public for single game, special events, and post season contests, in addition to saving nearly $100 over the total cost of single game prices.
The deadline for renewing season tickets, and to request new or additional tickets, is April 15. Fans can apply for tickets at hawkeyesports.com/tickets.
All renewal and new season ticket holders will be provided an opportunity to upgrade and/or select their seating locations based on availability and will receive selection dates and times in April. This process will be based on priority point totals and I-Club annual gift membership levels.
I-Club contributions, which fulfill regular and postseason seating and parking requirements, can be made at jointheiclub.com. I-Club gifts made by March 30 will be included in priority points for the 2016 season ticket selection/upgrade process. I-Club contributions — which provide Hawkeye student-athletes the tools they need to succeed at the highest levels — must be made by June 30 to ensure proper mailing of season tickets and parking passes. I-Club renewal forms will be emailed on Feb. 16.
The Hawkeyes posted a perfect 12-0 regular season in 2015, winning the Big Ten West Division title. That mark included a perfect 7-0 record in Kinnick Stadium and the 12 victories set a program record. Iowa advanced to the Big Ten Championship game and the 2016 Rose Bowl.
"We certainly want to build on the momentum that was established by our football team in 2015," said Gary Barta, UI director of athletics. "The support of our fans in Kinnick Stadium, in Indianapolis, and in Pasadena, was truly amazing.
"We have an attractive home schedule this fall and anticipate a great game day atmosphere for all seven home contests."
The Hawkeyes' schedule in 2016 once again includes seven home games, including four Big Ten Conference games. Iowa's Big Ten home opponents include Northwestern, Wisconsin, Michigan, and Nebraska. The Hawkeyes open the season by hosting Miami (Ohio) on Sept. 3, and also host Iowa State (Cy-Hawk Series) and North Dakota State. Northwestern, Wisconsin, and Michigan each won at least 10 games a year ago, while North Dakota State has won five straight FCS national titles. Start times and television information are not yet available.
Additional ticket options, including single-game tickets, and group packages, will be available at a later date. Fans may call 1-800-IA-HAWKS or email tickets@hawkeyesports.com for additional ticket information.