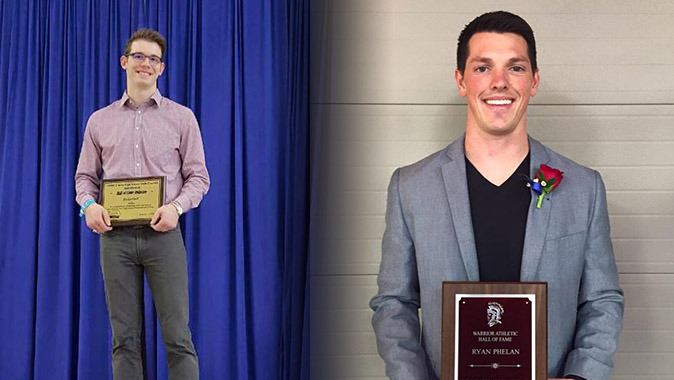 Feb. 19, 2016
IOWA CITY, Iowa — A pair of University of Iowa men's swimming and diving graduates — Jordan Huff and Ryan Phelan — can now call themselves Hall of Famers.
Huff, who competed for the Hawkeyes from 2009-13, was inducted into the Iowa High School Swim Coaches Hall of Fame last weekend in Marshalltown. Phelan (2008-12) was named to the Cedar Rapids Washington High School Athletics Hall of Fame.
Huff earned the distinction after being one of the most decorated swimmers in Dubuque high school history. He was an All-American a school-record 14 times during his career at Dubuque Senior High School.
He won seven state championships, including both the 100 and 200 freestyle events in each of his final three seasons and he anchored the winning 400-free relay as a senior to lead the team to its first state championship. Huff was twice named the State Swimmer of the Year.
"The honor of being chosen to the Hall of Fame means a lot to me," said Huff. "I certainly never expected something like this when I was going through high school and the whole experience is hard to put into words.
"I feel fortunate for the support I had from my family and coaches that helped me succeed."
As a Hawkeye, Huff was a four-year letterwinner, earning honorable mention All-America in five events in his career. He is still a school record holder in the 400-free and 800-free relays.
Phelan was an All-American and two-time all-state selection at Cedar Rapids Washington High School, where he helped lead the Warriors to two state runner-up finishes. Phelan swam on the school-record setting 200-medley and 200-free relays and he was team captain and MVP as a junior.
"I am truly humbled to be part of the Warrior Hall of Fame," said Phelan. "I get to join this group of extraordinary individuals and feel truly blessed about the opportunity."
During his UI career, Phelan is still the school record holder in three events (50 free, 200-free relay, and 400-free relay) and is No. 2 all-time in the 100 free. He was a member of the All-America 200 and 400 free relays in 2012 and the honorable mention 400-free relay in 2011.
The UI men return to action Feb. 24-27 at the Big Ten Championships in West Lafayette, Indiana.