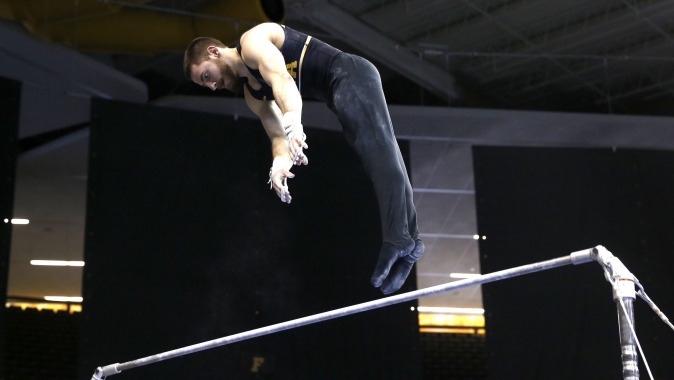 Fe 20, 2016
Download your Hawk Talk Monthly iOS app
Download your Hawk Talk Monthly android app



Editor's Note: The following first appeared in the University of Iowa's Hawk Talk Daily, an e-newsletter that offers a daily look at the Iowa Hawkeyes, delivered free each morning to thousands of fans of the Hawkeyes worldwide. To receive daily news from the Iowa Hawkeyes, sign up HERE.
By JACK ROSSI
hawkeyesports.com
IOWA CITY, Iowa — It is the first step in the qualifying frenzy for the Rio 2016 Olympics: The Winter Cup Challenge. Three student-athletes from the University of Iowa men's gymnastics team traveled to the annual event in Las Vegas this weekend to compete with the country's best.
Seniors Jack Boyle and Matt Loochtan along with junior Andrew Botto represented the Hawkeyes at the competition. Boyle and Botto were selected to the invitation-only competition based on their performance at last year's P&G Championship, while Loochtan was petitioned in by head coach JD Reive.
"It's not a coincidence that these guys are our captains, upperclassmen, and leaders, and guys that are doing well," Reive said. "They understand the pace of this and they have prepared themselves."
Loochtan and Boyle competed in the morning session of qualifiers Feb. 18 while Botto was in the second session in the afternoon. Boyle and Loochtan qualified for finals, tying for 21st and placing 33rd, respectively. Botto placed 30th overall in the all-around, but did not make the cut for finals.
Loochtan tied for 10th overall on floor exercise with a 14.450, while Boyle showed why he is ranked first in the country on high bar. The 2015 All-American posted a 13.900 on the event, his second-lowest score of the season, but good enough for 15th overall.
"He has been consistent," Reive said. "His high bar continued to improve throughout the season last year, he showed up in the postseason, did well and he was an All-American. He kept that going this season."
Also competing as juniors are Hawkeye commits Andrew Herrador and Nicholas Merryman. Herrador competed in the first session with Loochtan and Boyle, while Merryman competed in session two, the same group as Botto.
"It's fun to have them around," Reive said. "They're rotating with us and competing with us. Seeing them compete and them seeing how I am with the student-athletes is a nice experience you usually don't get to have."
This competition is just the beginning for those looking to make the Olympic roster. All six U.S National Team members are attending the competition as well as many more Big Ten gymnasts and alumni for the first step in a string of competitions to choose a team for Rio.
"This is a great opportunity for us to show off our skills in front of a different crowd," Loochtan said.
The Winter Cup Finals begin today at 9:15 p.m. (CT) inside the Cashman Convention Center.