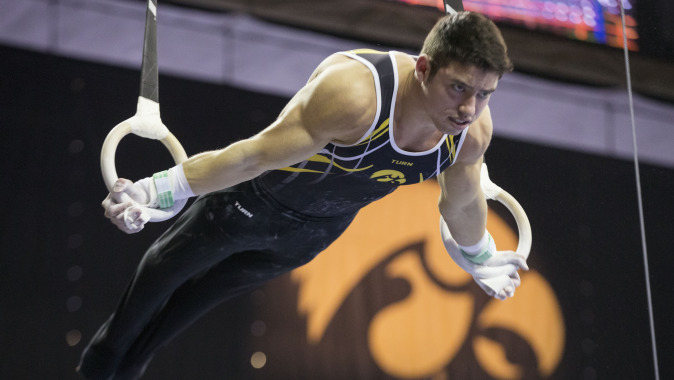 Feb. 21, 2016
Winter Cup Results

LAS VEGAS — University of Iowa seniors Matt Loochtan and Jack Boyle represented Iowa in the finals of the Winter Cup Challenge in Las Vegas, Nevada, this weekend.
Loochtan placed 22nd overall with a combined score of 163.400 and Boyle posted a 162.000 to finish in 24th place in the finals on Saturday night.
On day one, Loochtan placed 33rd overall with an 80.350 effort and tied for 10th on floor exercise with a 14.450, qualifying himself for finals. On day two, Loochtan placed 13th on rings, posting a 14.800. His other scores include a 14.150 on floor, 12.700 on pommel horse, 14.800 on vault, 13.700 on parallel bars and a 12.900 on high bar.
Boyle placed 21st on day one of the competition, including a 15th place finish on high bar with a 13.900. In finals, Boyle finished in 24th and scored a combined 162.000 along with a 27th place finish on floor (13.850). Boyle's finals scores include a 12.150 on pommel horse, 13.350 on rings, 13.850 on vault, 13.350, parallel bars, and a 13.200 on high bar.
Team Hilton's Sam Mikulak won the all-around competition with a combined score of 177.450.
The Hawkeyes are back in action on Feb. 27, hosting Penn State and Nebraska in the UI Field House. The meet begins at 1 p.m. (CT).