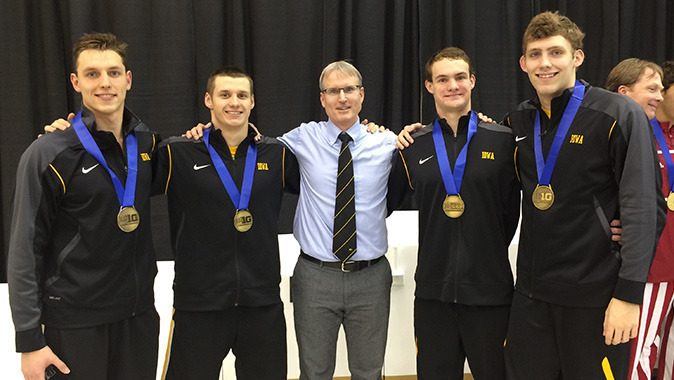 Feb. 25, 2016
Complete Results

WEST LAFAYETTE, Ind. — The University of Iowa men's swimming and diving team's 400-medley relay earned a bronze medal and punched its ticket to the 2016 NCAA Championships on Thursday night at the 2016 Big Ten Championships at the Boilermaker Aquatics Center.
The relay consisting of freshman Kenneth Mende, senior Roman Trussov, sophomore Jerzy Twarowski, and freshman Jack Smith swam to a school-record time of 3:07.83. The time is an NCAA "A" cut and put the Hawkeyes in third place in the race.
In the diving well, Iowa had a pair of student-athletes qualify for the "B" final. Freshman Will Brenner finished third in his final and 11th overall off the 1-meter springboard with a score of 322.75. Junior Brandis Heffner was 16th overall with a score of 283.75.
The Hawkeyes had three student-athletes earning a second swim in the 50 free. Senior Charles Holliday swam to the eighth-fastest time in program history during the prelims, touching in at 19.97 seconds, landing in the finals along with Smith and senior Jackson Allen.
In the final, Allen finished 17th with a time of 19.99 seconds, Smith was 21st with a time of 20.12 seconds, and Holliday was 24th in 20.25 seconds. Allen's time is tied for the ninth-fastest in program history.
Iowa is in seventh place in the team standings following the second day of competition with 208 points. Michigan is leading the team field with 496 points followed by Indiana with 452 points.
Day three of the Big Ten Championships begins Friday at 10 a.m. (CT).