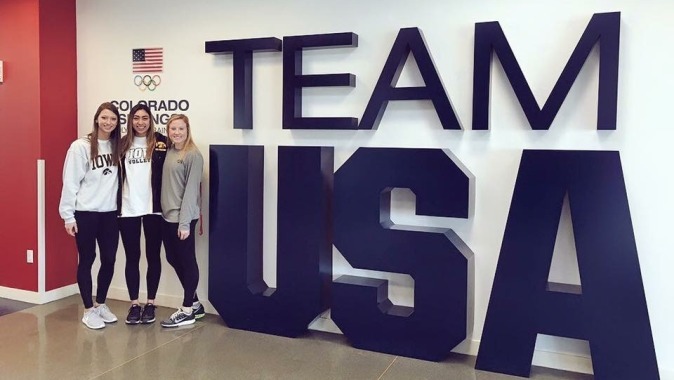 Feb. 25, 2016
Editor's Note: The following first appeared in the University of Iowa's Hawk Talk Daily, an e-newsletter that offers a daily look at the Iowa Hawkeyes, delivered free each morning to thousands of fans of the Hawkeyes worldwide. To receive daily news from the Iowa Hawkeyes, sign up HERE.
By BRANDEE BRITT
IOWA CITY, Iowa — From Feb. 19-21, the nation's top volleyball student-athletes were invited to participate in the United States Women's National Team Open Tryouts in Colorado Springs, Colorado.
Three Hawkeyes — Loxley Keala, Kasey Reuter, and Annika Olsen — were among them.
More than 230 athletes from 88 colleges and universities participated in the tryout held at the U.S. Olympic Training Center under the direction of Olympic Hall of Famer Karch Kiraly and the U.S. Women's National Team coaching staff. Thirty-six athletes were from Big Ten institutions.
"When you go to something like this you literally line up with the best athletes in the entire country," said UI associate head coach Michaela Franklin, who also made the trip to Colorado Springs. "I was proud of the way they competed and the way they represented Iowa volleyball from a character stand point. I was impressed with our girls."
While the outcome of the tryout is yet to be determined, all three Hawkeyes left Colorado Springs encouraged and excited for the future.
Keala, a junior transfer, started every match and every set as Iowa's setter in 2015. The Kaneohe, Hawaii, native ranks eighth on Iowa's all-time career assists list after tallying 1,247 in her first year as a Hawkeye.
"I learned a lot about myself," said Keala. "Playing against the best brings out the best in you. Over the weekend, we realized we aren't comparing ourselves to these athletes, we are competing with them. Just to watch, learn, and set with all of these All-American setters was fun."
Olsen started every match as Iowa's libero. The sophomore led the team and Big Ten with a 4.75 digs per set average, and became just the sixth Hawkeye in program history to surpass 500 digs in a single season (546).
"The biggest thing I learned was that we fit right in as University of Iowa student-athletes," Olsen said. "We can compete and train with the best people in the country. That gives us a lot of confidence heading into next season."
For Reuter, the newest member of the Iowa volleyball team, the trip not only awarded her the opportunity to compete against the best in the nation, but it also gave her a chance to get to know her teammates.
The Sioux City, Iowa, native transferred from Missouri following the fall semester. She appeared in 31 matches with 12 starts for the Tigers in 2014 before redshirting in 2015. As a freshman, Reuter recorded 124 kills, 28 blocks, and 65 digs.
"It was a lot of fun to travel and get some down time with my teammates," said Reuter. "We all learned that there are some talented people out there, but we can hang right there with them."
Since returning to Iowa City, Keala, Olsen, and Reuter are focused on bringing that confidence and energy into the team's spring practices.
"Bringing that competitive edge and spirit back to our gym is the biggest takeaway," said Reuter. "We have to bring that energy within ourselves."
"We all want to share our experience with our teammates," Keala added. "We want to inspire them the way Karch inspired us. I think the team can take a lot from that, and it will help us going into Big Ten play next fall."