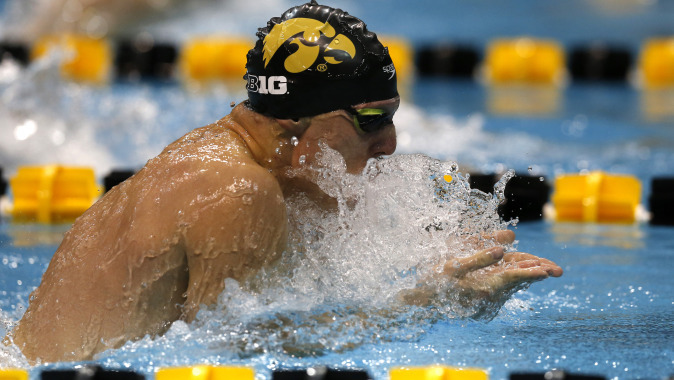 Feb. 26, 2016
Friday Results

WEST LAFAYETTE, Ind. — Senior Roman Trussov earned a silver medal and swam to a University of Iowa men's swimming and diving team school record in the 100 breast Friday night at the 2016 Big Ten Championships at the Boilermaker Aquatics Center.
Trussov, a native of Kamenogorsk, Kazakhstan, touched in second place with a time of 52.17 seconds to break his own school record.
Senior Tyler Nichols finished 18th in the 100 breast with a time of 54.46 and senior Mike Nelson finished in 19th place with a time of 54.57.
In the diving well senior Addison Boschult qualified for the "A" final and finished seventh overall in the 3-meter springboard with a score of 359.25. Senior Andrew Hull was 16th with a score of 306.35.
Iowa made it to the podium in the 200-free relay with a seventh place finish. Senior Jackson Allen, freshman Jack Smith, senior Charles Holliday, and senior Brandon Farnum swam to a time of 1:18.72. It is the third-fastest time in program history.
Sophomore Chris Dawson competed in the "C" final of the 400 IM, finishing 22nd overall with a time of 3:52.14. The time is the fourth-fastest time in program history.
Sophomore Jerzy Twarowski finished eighth in the 100 fly. The sophomore swam to a finishing time of 47.47. Allen, meanwhile, swam to a 21st place finish, swimming to a time of 48.19.
Senior David Ernstsson finaled in the 200 free, where he swam to a 24th place finish. He posted a time of 1:38.10.
Freshman Kenneth Mende closed out the night with a 14th place finish in the 100 back, touching with a time of 47.45. In prelims, he finished with a time of 47.24, the third-fastest in program history.
Iowa is in seventh place in the team standings following the second day of competition with 382 points. Michigan is leading the field with 1,005 points followed by Ohio State with 855.5 points.
The final day of the Big Ten Championships begins Saturday at 10 a.m. (CT).