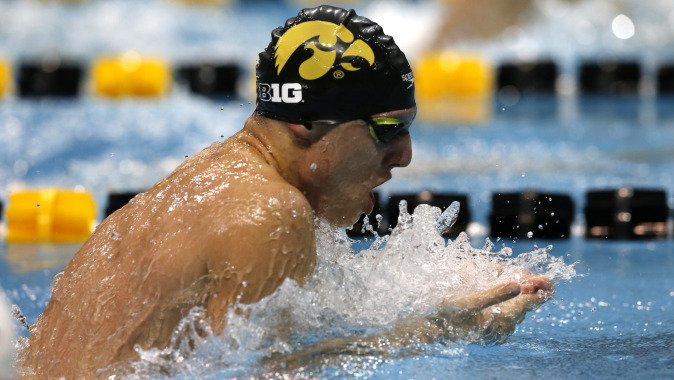 Feb. 27, 2016
Complete Results

WEST LAFAYETTE, Ind. — Senior Roman Trussov earned second-team All-Big Ten honors and was the University of Iowa men's swimming and diving team's Sportsmanship Award recipient at the 2016 Big Ten Championships, which concluded Saturday at the Boilermaker Aquatics Center.
Trussov earned the All-Big Ten recognition courtesy of his runner-up finish in the 100 breast on Friday. On Saturday, the Kazakhstan native swam to a 10th-place finish in the 200 breast in 1:57.05. Senior Mike Nelson also finaled in the event, placing 24th in 2:01.12.
Freshman Kenneth Mende opened the day's prelims with the fourth-fastest time in program history in the 200-back (1:43.87) to qualify for the finals. He finished with a time of 1:44.65 during his second swim to place 12th overall.
In the diving well a pair of seniors qualified for finals in platform competition. Senior Addison Boschult advanced to the "A" final and finished sixth overall with a score of 350.45. Senior Andrew Hull was a "B" finalist, placing 14th with a score of 320.25.
Iowa made it to the podium in the 400-free relay with an eighth-place finish. Freshman Matt Kamin, freshman Jack Smith, Trussov, and senior Charles Holliday swam to a time of 2:56.46.
Sophomore Jerzy Twarowski finished ninth in the 200-fly. The sophomore swam to a finishing time of 1:46.31, while sophomore RJ Hemmingsen was 23rd with a time of 1:50.98.
A pair of freshmen sprinted in the final of the 100 free. Smith finished 11th with a time of 43.86 seconds, while Kamin placed 14th in 44.33 seconds.
Iowa finished in seventh place in the team standings with 551 points. Michigan won its sixth straight team title with 1,475.5 points and Indiana was the team runner-up with 1,306 points.
The Hawkeye divers will be in action at the 2016 NCAA Zone D Diving Championships from March 7-9 in College Station, Texas.