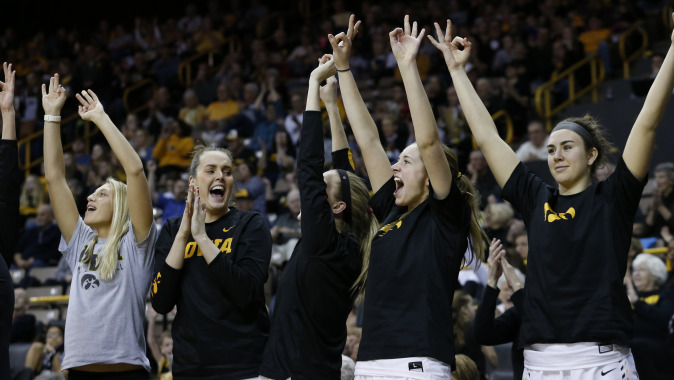 Feb. 28, 2016
Big Ten Tournament Bracket

IOWA CITY, Iowa — The University of Iowa women's basketball team finished the conference slate with an 8-10 record and is the No. 9 seed 2016 Big Ten Conference Tournament. The tournament is set for March 2-6 at Bankers Life Fieldhouse in Indianapolis, Indiana.
The Hawkeyes open tournament play against 8th-seeded Michigan (9-9) on Thursday at 11 a.m. (CT). The game will be broadcast live on the Big Ten Network with Lisa Byington (play-by-play), Christy Winters-Scott (color), and Shelley Till (sideline) on the call. The winner advances to meet top-seeded Maryland on Friday at 11 a.m.
Iowa split the regular season series with Michigan. After falling on the road at Michigan, 82-75, on Jan. 7, the Hawkeyes rebounded with a victory inside Carver-Hawkeye Arena, 85-69, on Feb. 28. Iowa fell in its lone matchup against Maryland, 76-56, on Jan. 10 in Iowa City.
The Hawkeyes opened the 2015 Big Ten Tournament with their third win of the season against Nebraska, 74-65, but were eliminated in the semifinal round by Ohio State, 91-85, in overtime. Iowa is 21-19 all-time in the Big Ten Tournament; only three schools have won more tournament games. The Hawkeyes have claimed two tournament titles (1997, 2001) and made four championship game appearances.
Twelve tournament contests will air live on the Big Ten Network. The championship game, scheduled for Sunday at 6 p.m., will be broadcast on ESPN.
Tickets are available at the Bankers Life box office, ticketmaster.com, or by phone at 800-745-3000. Single session ticket prices vary from $8-16 depending on the session, while all-session tickets are available for $75. For more information on the Big Ten Tournament, visit bigten.org.