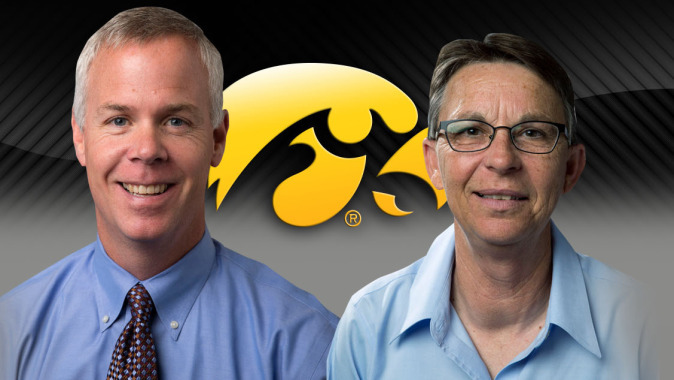 March 1, 2016
IOWA CITY, Iowa — University of Iowa Director of Athletics Director Gary Barta announced Tuesday the elevation of Paula Jantz and Matt Henderson to the position of Senior Associate Athletics Director.
Henderson has most recently served as Assistant Vice President for Athletics Development at the UI Foundation. In his new role, Henderson will remain involved in fundraising, but will also oversee all athletics department revenue and external relations. Henderson began his career in Athletics Development at the UI Foundation in 1998.
Henderson served as the UI's assistant director of sports marketing from 1994-98. He joined the Iowa staff from the University of South Alabama, where he served as marketing and public relations coordinator in the Department of Conference Activities and Special Programs (1993-94), and assistant director of sports information in the Department of Intercollegiate Athletics (1991-93).
Henderson earned his B.S. degree in physical education from Iowa (1991), and his M.S. degree in Recreation Administration from South Alabama (1993).
Jantz has been a member of the Iowa staff since 1980, serving in women's athletics prior to the merger of the men's and women's programs in 2000. Since that time, she has held the title of Associate Director of Athletics for Event Management and Operations.
Jantz has served as the Department's Senior Woman's Administrator (SWA) since Sept. 1, 2015. As Senior Associate Athletics Director she will continue in her role as SWA, as well as manage sports programs, student-athlete performance, and athletics event management.
Jantz earned B.S. degrees from Oklahoma State in 1976 and 1977, and her master's degree in Athletic Administration from Iowa in 1980.
Jantz will be retiring in January, 2017. She will be closely involved in the search for her replacement this summer.
These moves are the latest in the UI's athletics department senior staff reorganization that began in 2013. Previous retirements of senior staff members Mark Abbott and Fred Mims, along with the pending retirements of Jantz, and longtime department leaders Mick Walker (chief financial officer), later this year, and Mark Jennings (associate athletics director), Jan., 2017, prompted the process.
Liz Tovar (Student Athlete Academic Services) and Lyla Clerry (Compliance) joined the Iowa senior leadership team in 2013, followed by Deputy Athletics Director Gene Taylor, who joined the athletics staff in June, 2014.
Following Tuesday's announcement, the athletics department will begin the search for an Associate Athletics Director for Strategic Communications and Marketing. This position was previously held by Rick Klatt, who recently moved across campus to the Office of Strategic Communications. In addition, the UI Foundation will conduct a search to fill the position of Assistant Athletics Director for Athletics Development.