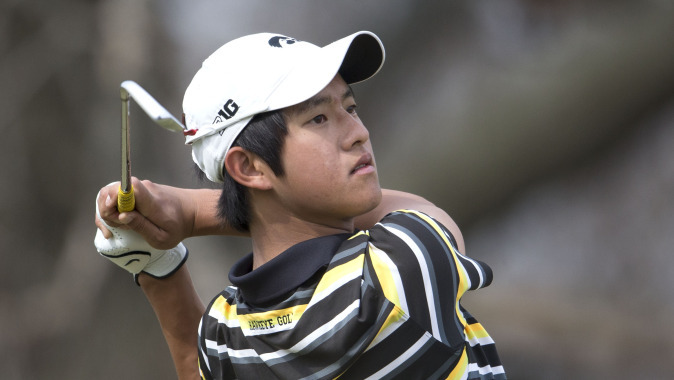 March 3, 2016
Editor's Note: The following first appeared in the University of Iowa's Hawk Talk Daily, an e-newsletter that offers a daily look at the Iowa Hawkeyes, delivered free each morning to thousands of fans of the Hawkeyes worldwide. To receive daily news from the Iowa Hawkeyes, sign up HERE.
BY SAM STYCH
hawkeyesports.com
IOWA CITY, Iowa — The dream was there, but the opportunity wasn't for University of Iowa men's golfer Voramate Aussarassakorn. That was until a place more than 8,500 miles from home came into the picture.
For Aussarassakorn, a senior from Bangkok, Thailand, the dream has always been to get a good education on the way to becoming a professional golfer. However, he was stuck in quite the predicament.
"In Thailand, we have to choose between school or professional golf because we don't have any programs that allow for school and golf at the same time," he said.
That's when he became open to the idea of heading to a new country to pursue both, and for Aussarassakorn, the University of Iowa was the perfect fit. It offered a quality education and an opportunity to play golf at a high level. It has also given him the chance to work with an experienced coaching staff.
"I love the coaching staff here at Iowa," said Aussarassakorn. "Tyler (Stith) and Dan (Holterhaus) have a lot of experience and are very knowledgeable about the game. I have learned a lot from them both on and off the course.
"My game has improved a lot since arriving in the United States, especially my short game. I used to play only one style around the green, but now I'm able to play multiple styles with confidence. I have also learned how to manage myself on the course, which has helped me reduce bad decisions when I'm on the course."
On a broader spectrum, Aussarassakorn does miss eating Thai cuisine on the regular, and he also misses his family. He still stays in contact with them, but it can be difficult due to the 12-hour time differential.
"I contact my parents one or twice a week depending on the scheduling because of the time difference between here and there," said Aussarassakorn. "I used to visit my family twice a year — once during summer and again during winter break — but now I only visit once a year."
It can be extremely difficult to adapt to a new culture, perhaps even harder to learn a new language. But for Aussarassakorn, the process has been much easier thanks to his teammates over the last four years, and for that he is grateful.
"Everyone on the team is nice and friendly," said Aussarassakorn. "They never make fun of me when I do something wrong due to a difference in culture or language. They have done their best to make me feel comfortable and have been a big part in helping me learn and understand the American culture. I wouldn't have adapted so quickly without their help."
With an emphasis on business studies in Iowa's interdepartmental studies program, Aussarassakorn is on track to graduate this spring. After that, the focus shifts toward a professional golf career.
"I plan on staying in the United States for a couple of months after I graduate this spring so I can play some of the mini tours around the Midwest," he said. "After that, I will go back to Thailand and try to qualify for the Asian Tour."
Until then, there is still a lot of collegiate golf to be played for Aussarassakorn, as he and the Hawkeyes push through the spring in hopes of securing their eighth straight NCAA Tournament appearance.