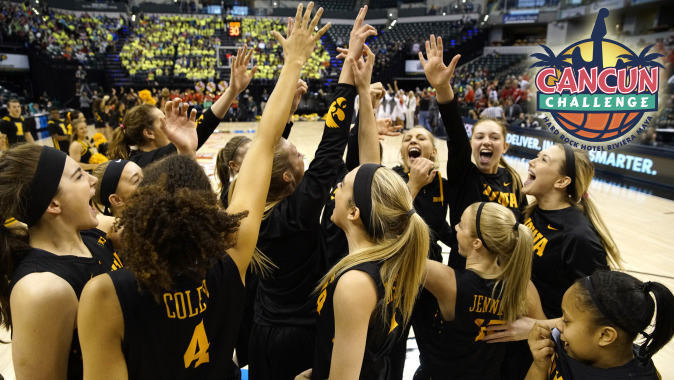 March 7, 2016
IOWA CITY, Iowa — University of Iowa women's basketball returns to headline the 2016 Women's Cancun Challenge, held at the all-inclusive Hard Rock Hotel Riviera Maya on the Yucatan Peninsula. It will be the Hawkeyes' fourth appearance in the tournament (2007, 2010, 2013).
Iowa, who is 6-1 all-time at the tournament with one championship in 2013, will compete in the Riviera Division against UCLA and James Madison Nov. 24-25. The full schedule will be announced later this year.
"We are so excited to have these teams play some great basketball at the beautiful all-inclusive Hard Rock Hotel Riviera Maya," said Cancun Challenge tournament director Renee Carlson. "It's a one-of-a-kind tournament experience for teams and fans, with all of the basketball played just a few steps from their hotel rooms. We look forward to making great memories for everyone at the Cancun Challenge."
The Cancun Challenge is one of the premier basketball events held each year and was rated as a top-five preseason tournament by Sports Illustrated in 2014. Teams stay and play at the Hard Rock Hotel Riviera Maya. The resort's convention center ballroom is converted into an arena, which provides fans a special close-up view of the games. Once arriving to the hotel, teams and fans are treated to a spectacular all-inclusive rock star vacation with games, practices, unlimited dining and drinks, world-class entertainment and fun all in one location.
Located just off the azure waters of the Caribbean Sea, Hard Rock Hotel Riviera Maya offers the ultimate vacation for guests of all ages with both the adults-only and family friendly resort experiences. With a combined 1,264 ultra-posh and lavishly appointed guestrooms boasting balcony, terrace views or new, expansive sky terrace options with picturesque views, hydro tubs in each room, world-class shopping and endless style, Hard Rock Hotel Riviera Maya is nothing short of the ultimate crowd-pleaser. Complete with expansive outdoor pools and private beach, this all-inclusive escape offers nine world-class restaurants, eight bars and lounges, in addition to 88,915 square feet of state-of-the-art meeting and event space ideal for elegant banquets, themed parties, weddings, concerts, and more.
Seating is limited for this exclusive event, and all fans should book land travel packages through Triple Crown Sports for admission into games in Mexico. Travel packages are the only way to guarantee admission to games at this time. For travel package information, contact Sarah Sullivan at 970-672-0533 or by email at sarah@triplecrownsports.com, or visit the website at cancunchallenge.net.